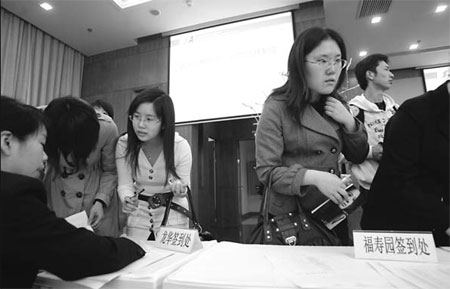 Shanghai college students meet with the city's funeral service companies yesterday. Gao Erqiang
SHANGHAI: It is the one business that is never short of clients, and 366 college graduates will this week find out if the city's funeral industry is the answer to their desperate job search.
The students have all applied for more than 300 vacancies at 18 funeral homes and cemeteries, with pre-interview training to find out if any have what it takes to survive in the trade starting yesterday.
But despite being a business that has had little to fear from the global financial crisis, dealing with the dead is not everyone's cup of cha.
"Working in the industry is considered morbid and I hope you are fully prepared and make a sensible choice," said Wang Hongjie, of the civil affairs bureau's funeral and crematory division, as he addressed the hopefuls.
"Most people in the industry don't visit friends or relatives at Spring Festival because we are considered unlucky. We don't visit patients at hospital either as their families will be afraid they'll die after we visit."
Wang said the graduates will hear lectures by experienced experts, visit the Shanghai Funeral Museum and be given tours of funeral homes and cemeteries.
"We'll have them walk by the [post mortem] make-up rooms. They can choose to enter or not," he told China Daily.
The bureau held a special job fair last month to promote positions such as funeral service salesmen, planners, tomb architects and make-up artists to students, citing to a "lack of talent" in the industry.
It attracted more than 900 applicants, said Wang, "but about 10 percent later retracted them for family reasons or because they had found other jobs".
But despite the feelings of dread inspired in some, international economics and trade major Gu Yu said he was not put off by the nature of the work or the superstitious stigma.
"It's stable work and less stressful compared to jobs at other companies," said the Yunnan University student. "My family will support my choice as long as I'm happy."
Xia Yawen, a student in environmental protection at the Shanghai Institute of Technology, who applied for the job of receptionist at Baoxing Funeral House, added: "I don't think it will bring me bad luck - but still wouldn't dare work as a make-up artist!"
(China Daily 04/09/2009 page5)