While a 60-member Chinese delegation is busy exploring investment opportunities in Europe, the local government of Hunan province is trying its best to ensure firms doing business abroad get all the help they require.
"Due to the global financial meltdown, this is the right time to go out and invest - asset prices are very low - but enterprises investing overseas should be careful," said Gan Lin, vice-governor of Hunan province, who is in Beijing to attend the annual National People's Congress session.
Gan said the local bureau of justice in Hunan has taken the lead in setting up a law consultant service center to help enterprises aiming to invest overseas, with legal help in the countries they wish to do business in.
Earlier, every company had to set up its own legal office if it wanted to do business abroad, Gan said.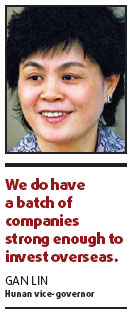 To help firms find more professionals familiar with mergers and acquisitions (M&As), international rules and overseas operations, the province plans to launch personnel training programs, Gan said during a chat session on the China Daily website.
Even though the 60-member business delegation to Europe, which departed on Sunday, did not include companies from Hunan, the hinterland province has been an active player in outbound investment.
Last year, Hunan's investment abroad, with a total of $4.79 billion, ranked the third in the country, said Gan.
"We do have a batch of companies strong enough to invest overseas," she said.
Steel giant Valin recently spent Australian $558 million ($357 million) to become the second largest shareholder of Fortescue, one of the world's biggest iron ore miners.
Sany Heavy Industry Co, one of China's biggest heavy machinery manufacturers, announced in January that it will spend 100 million euro ($126 million) to set up a development and research center in Cologne, Germany.
"Sany is also looking for M&A opportunities now," Xiang Wenbo, president of Sany, told China Daily. "Many foreign firms have contacted us, but we are prudent. We need help in financing and we hope China can map out a strategy in overseas M&A."
Gan said a major reason to support companies setting up businesses abroad was that it would help spur foreign trade and labor force export.
"Overseas investment means more export of materials, machinery and labor force," she said.
In 2008, Hunan's foreign trade managed to register a 29.7 percent year-on-year growth to reach $12.6 billion, well above the national average level of 17.8 percent.
Gan said she hoped more foreign firms invest in the central China province, with abundant natural resources and cheap labor.
(China Daily 03/10/2009 page5)