A high-powered trade delegation ended its European shopping trip over the weekend, signing deals worth more than $13 billion in four countries.
"The trip demonstrates China's commitment to open its market and oppose trade protectionism," Chen Deming, the minister of commerce and delegation head, was quoted as saying by Xinhua.
"The procurement will help countries tide over the current difficulties and push the global economy on to the road of recovery," Chen said.
The delegation, which had representatives from more than 150 enterprises and industry associations, visited four countries: Germany, Switzerland, Spain and the United Kingdom.
The trip followed Premier Wen Jiabao's European tour, which took in the same four countries, and is seen as an effort by the country to bolster trade ties and demonstrate its commitment to fight trade protectionism amid the global economic downturn.
"The $13 billion may not be a huge amount, but it showcased China as a responsible developing nation at a time when some other countries are resorting to trade protectionism policies amid the financial crisis," said Feng Lei, a researcher with Chinese Academy of Social Sciences.
"The trip will help restore confidence of enterprises and consumers both in China and the European countries," Feng said.
Chinese enterprises mainly purchased machinery, high-tech equipment, vehicles, and energy saving technologies from Europe. The government also separately signed trade and investment agreements with the countries.
The deals are mainly in sectors where European countries have an edge, and those which China needs to upgrade, according to the commerce ministry.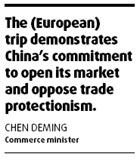 "These products will help Chinese enterprises improve their technology," Yao Jian, spokesman for the ministry, said before the trip.
Feng said the deals are good for buyers and sellers.
"Chinese enterprises are in need of the equipment and technologies, but the Western world has been quite conservative in selling China key products and high technologies," he said. "It is time to change the old thinking and we need to open up to each other further," he added.
He said the imports would help to achieve a better bilateral trade balance.
The EU is China's largest trading partner, accounting for 16.6 percent of the country's total foreign trade.
Bilateral trade increased 19 percent year-on-year to $425.6 billion in 2008, with China having a trade surplus of $160 billion.