The country's 558 clinics treating drug addicts have helped 170,000 people to kick the habit in the past five years, an official has said.
The government began setting up such clinics in 2003, which provide cheap methadone to drug addicts, said Wu Zunyou, director of the National Center for AIDS and Sexually Transmitted Disease Control and Prevention.
The country had just five methadone clinics in 2004.
Methadone is a synthetic narcotic drug, similar to morphine but less habit-forming. Developed in Germany in 1930, it is used in narcotic detoxification and treatment of heroin addiction.
Methadone is effective orally and does not need a needle to be pushed. That's why experts say that promoting its use in the treatment of heroin addiction can check the spread of HIV/AIDS.
Needle sharing by drug addicts is one the major sources HIV/AIDS infection.
The number of people infected with HIV/AIDS dropped by more than 3,300 and heroin consumption fell by nearly 16.5 tons this year because of the methadone therapy, Xinhua quoted Wu as having said.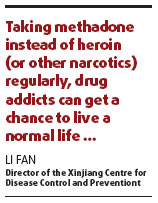 Methadone therapy is most widely used in the Xinjiang Uygur autonomous region, where drug addiction is the top cause for the spread of HIV/AIDS. The central government has funded the setting up of 27 methadone therapy clinics in Xinjiang after the first was opened there in 2005.
"Taking methadone instead of heroin (or other narcotics) regularly, drug addicts can get a chance to live a normal life, avoid the risk of HIV/AIDS infection and become less prone to crime," said Li Fan, director of the Xinjiang Centre for Disease Control and Prevention.
Incentives such as rewards for attending all methadone treatment sessions, too, have been announced to help people get rid of addiction.
With Asian Development Bank's help, the center is working to curb drug use and eliminate high-risk activities like needle sharing. It uses peer group-based psychological support, counselling by volunteers and medical professionals, and mobilizes local religious leaders in advocacy efforts.
(China Daily 12/24/2008 page3)