The fifth China-US Strategic Economic Dialogue (SED) that concluded yesterday in Beijing has significantly enhanced the fast-growing bilateral economic ties to the benefit of both peoples and the stability and prosperity of the world economy.
Its success justifies more efforts from both sides to build on the constructive and cooperative relations to develop an enduring economic partnership, which will definitely be crucial to raising China-US economic ties and even overall relations to a new high.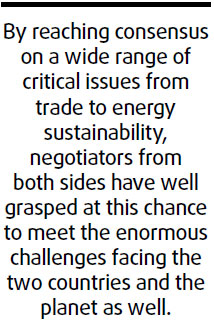 With a two-way trade that increased by more than 120 times over the past three decades, China and the United States have grown into the second-largest trading partner to each other. The sheer size of the two economies, the world largest developing one, and the richest one, make it all too obvious of the importance of sound China-US economic ties to the world economy which has been hit hard by the global financial crisis.
By engaging and reaching consensus on a wide range of critical issues from trade to energy sustainability, negotiators from both sides have well grasped at this chance to meet the enormous challenges facing the two countries and the planet as well.
For instance, among the concrete results of the meeting, the two governments' pledge of $20 billion to help finance trade will give a shot in the arm to exporters caught between the global credit crisis and domestic economic downturn.
Moreover, it signals the two countries' commitment to promote free trade and fight protectionism, laying a solid foundation for the international community to complete a successful Doha round of trade talks.
Also particularly noteworthy is the two countries' strengthened cooperation in energy and environment.
Instead of focusing on coping with the current financial crisis, the two sides have insisted on the necessity of joint efforts to address overarching, strategic and long-term issues vital to the health of both economies and the world economy at large.
Following up on the establishment of a Ten-Year Framework for Energy and Environment Cooperation at the fourth SED meeting in June this year, the two sides announced action plans on each of the five goals, and established a sixth goal of energy efficiency.
Admittedly, all the monetary easing and fiscal stimulus measures adopted by China, the United State as well as other countries matter a lot in curbing the spread of the financial crisis and prevent a global economic recession.
Yet, in the long run, sustained, comprehensive, constructive cooperation on energy and environment between China and the United States will be of no less significance in helping the world face future challenges.
(China Daily 12/06/2008 page4)