As one of the major mobile operating system providers, Microsoft has established a successful business model by partnering with handset manufacturers and charging licensing fees for the use of its Windows Mobile system.
However, as companies like Google and Nokia are beginning to roll out new mobile phone systems free of charge, the business model of Microsoft's mobile business is coming under greater scrutiny.
Although the company said it will continue charging handset makers licensing fees for the use of its Windows Mobile system, speculation remains rife on how Microsoft will counter these new challenges. The latest version of the rumor is that Microsoft would release its own branded phone with Nvidia by next February.
On his latest trip to China, Tony Mestres, general manager of Microsoft's Mobile Communications Business, talked to China Daily reporter Wang Xing about the company's strategy in the new market environment.
Q: What's your comment on the release of the first mobile phone based on Google's Android platform and Nokia's recent efforts in buying out its stake in Symbian and making the technology free?
A: I think the first thing I would say is that both of those moves are putting an excellent motion point on the importance of mobility in the convergence of communications and computing.
In many aspects, what you have is a collusion of industries - telecommunications, computing, advertising, entertainment, and online services. And that's why companies like Google, Apple, and Microsoft are becoming more and more merged in space.
But I also think it's important that both Google and Nokia recognize that the platform strategy - be it the Android platform or Symbian platform - is an incredibly important way for them to address market opportunities.
Q: The Windows Mobile business is currently based on the system of licensing and franchising. Will you stick to that in the long term?
A: Yes, absolutely. The platform strategy, which is again based on selling operating system licenses to OEMs, is the right strategy, if you want to have scale, partner differentiation and innovation, and have a collection of different choices.
That will absolutely continue to be the foundation of our strategy.
Q: How will you keep partnerships with handset manufacturers when more and more of your competitors start offering operating systems for free?
A: Microsoft as a company has a lot of experience in winning business in an environment where other offerings claimed to be free.
And our experience told us that for partners and for customers, there is an enormous amount of cost associated with aggregating and managing those things which claimed to be free, and at the end of the day, in other businesses we embarked upon, we see that the total cost of developing these capabilities for the partners at the end of the day doesn't look anything like free.
Q: Do you have plans to profit from services rather than from charging licensing fees?
A: We absolutely have service strategies as I described earlier that bring everything from search to entertainment capabilities directly to the end users. I shouldn't say "directly", I should say "through our partners" to the end users.
So, part of our business model or business strategy is to give our key partners, in this case mobile operators around the world, the ability to choose the Microsoft experiences or services that they think are valuable and they can complement their strategy to those and sell those various user bases. That is different from other service strategies where companies are attempting to control the services directly to the end users and not involve the partner ecosystem in that process.
Q: Which do you think is the most promising market sector that will drive your business most?
A: I think that is, we call them in the United States and parts of Europe, the "prosumer" market, which is very untapped right now - people that are both business professionals as well as consumers.
Business professionals are people too. Not only do we want our messaging and the ability to have good professional value or business productivity, we also want to take care of our children, we also want to search for things on our phones, and we also want to have great consumer experiences. In many respects, there is a large untapped market of prosumers for China.
Q: What role will China play in Microsoft's Windows Mobile strategy?
A: Some of the best learning that we have about the mobility business has come out of China. And it comes from a number of different areas.One is developers, and their capabilities are built on our platform.Another is the importance of iconic devices, and the channels to market it. We have a more aggressive set of investments around our retail channel plans in China than in any other markets on earth. It's incredibly important market for Microsoft in general not just the high technology market, but all the things we do in China.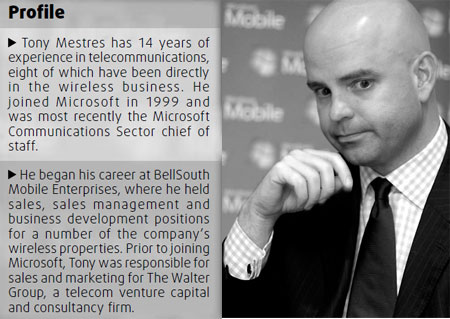 (China Daily 11/25/2008 page14)