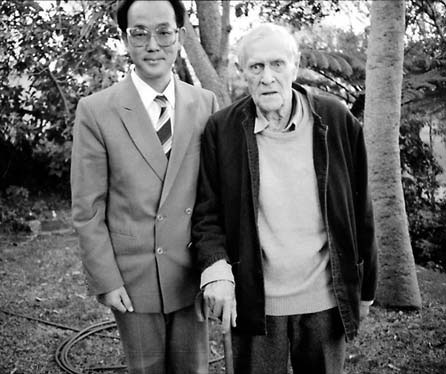 Li Yao and Patrick White in 1988. Photo courtesy of Li Yao
Li Yao turns his mind back to more than 30 years ago when he lived on the windswept grasslands of Inner Mongolia and was forced to hide his secret passion under the cloak of darkness.
He would wait for his family to fall asleep and then get up quietly, turn on a dim light and open his hidden treasure, a Chinese translation of Jean Christophe, a novel about a brilliant musician, by French writer and Nobel Prize winner Romain Rolland. The year was 1977 and the "cultural revolution" had just ended, but foreign books were still regarded as dangerous.
The copy of the translation he was reading was very special and contained corrections marked in red ink by the translator himself: Fou Lei (1908-66), whose translation of Western literature enlightened generations of Chinese.
Li says he was deeply moved by Fou's relentless pursuit of perfection. "The book that miraculously came to me lit my dream: I would be a translator introducing foreign literature to Chinese readers," Li says.
More than three decades later, the 62-year-old has not only fulfilled his pledge, but has been acknowledged as one of the finest translators in recent times.
Last month Li received the Australia-China Council (ACC) Award at the Australian Embassy in Beijing for his "outstanding contribution to Australia's bilateral relations with China".
The ACC was established in 1978 by the Australian government to strengthen the Australia-China relationship and the ACC Award was set up in 1999.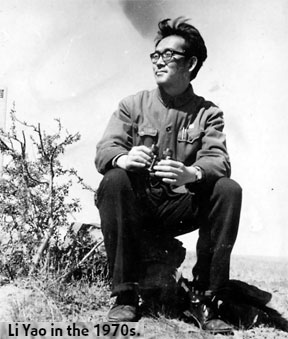 This year, the ACC granted awards to eight people, including three from the Chinese mainland. Besides Li Yao, two other mainland winners include Wang Xingjuan, who runs a women's psychology hotline in Beijing, and professor Wang Guofu with the Suzhou University.
As China and Australia increase their economic and cultural exchanges, more Chinese are heading to Australia for travel, study and immigration. Li says Australian literature is a great source for Chinese to better understand the country and its people.
Since 1978, Li has translated 43 books from Australia, Britain, the United States and other countries.
The topics mainly focused on literature, history and culture and among these were 22 Australian works, including the 1973 masterpiece by Patrick White (1912-90) The Tree of Man, which won him the Nobel laureate.
"The book with some 500,000 words was like a giant mountain for a beginner like me," Li recalls.
"White's elegant style and insightful thoughts were thrilling to my soul. From then on, I dedicated myself to the translation of Australian literature."
Growing up in a family of teachers in Inner Mongolia, Li had loved reading and writing since childhood and majored in English literature at the Inner Mongolia Normal University.
But when the "cultural revolution" began in 1966, his parents were branded "anti-revolutionists" and Li took up many odd jobs, such as working in a military-style camp in Shanxi province, where intellectuals did manual work.
Sharing a room with some 50 others, Li secretly wrote poems and a romantic novel on his upper bunk. His closest friends were three English novels - Pride and Prejudice, Alice's Adventure in Wonderland and The Path of Thunder - which he wrapped in red covers, as a form of disguise.
The Path of Thunder, written by prominent South African author Peter Abrahams in 1948, took pride and place. Li read it five times and wrote translations beside the paragraphs he loved, little knowing that it would be his first major work to be published in 1980.
With the ending of the "cultural revolution" in 1976, the whole country woke up from a prolonged winter.
While working at the cultural bureau of Wulanchabu League, Inner Mongolia, he discovered Fou Lei's translation of Jean Christophe from a bundle of books that had been locked in a Shanghai basement for a decade. Its title page had a few special words hand-written by brush: "Treasured by the translator himself, 1950".
He went to great lengths to return the book to Fou's family. Since then, he has written the same words in each of his own books.
In the late 1970s, Li could only find very old English novels. His translation of A Child's Dream of a Star by Charles Dickens was a big success and was read aloud on the Beijing Radio Station.
The first foreigner Li met was an Australian named Alison Hewitt, who was teaching English at Inner Mongolia University in 1980. Hewitt sent Li books, such as The Tree of Men, which White wrote in 1955. "They were the first new and original foreign language books I ever had in my life," Li says.
With the help of Professor Hu Wenzhong, a famous scholar in Australian studies with the Beijing Foreign Studies University, Li finished the translation in 1986 and translated more Australian books.
In 1988, Li finally realized his dream of visiting White while attending a conference in Australia.
The 76-year-old was happy to meet his Chinese translator and presented Li with his autobiography, Flaws in the Glass. He wrote: "For my brave translator Li Yao: May he and his readers be rewarded, Patrick White, Sydney, 1988."
"True literature should belong to mankind as it has no boundary of country or nation," White told Li.
As a modernist master, White had daunted even Australian readers with his profound thoughts. But when he suggested Li could skip a few difficult passages in his biography, Li said he was determined to present the master's life to Chinese readers as a whole. In 1990, his translation of White's autobiography was published.
Li admits that when he first took up Australian literature, it was partly because there were few translators in this field. As time goes by, however, he has come to "love Australia and its literary works".
Li says that contemporary Australian writers present a dynamic cultural mosaic different from dominant English literature in the West. But it was early Australian writers, such as Henry Lawson, who struck him first.
"They expressed a heroic spirit of surviving in the harsh environment, much like the vast grasslands of Inner Mongolia where I grew up. These works resonate strongly with my heart," Li says.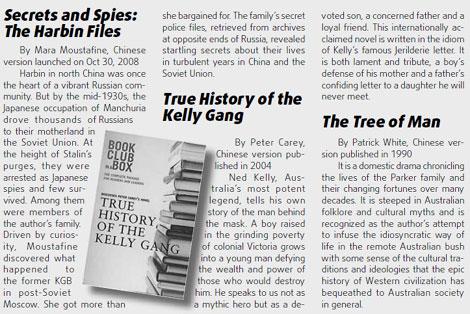 (China Daily 11/18/2008 page20)