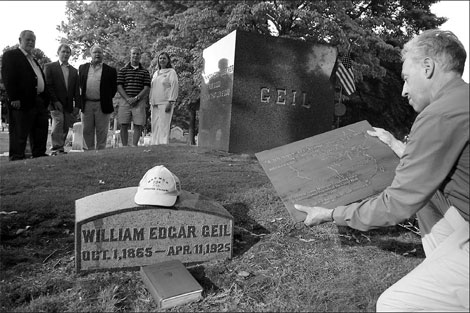 William Lindesay presents a bronze plaque to mark the centenary of William Geil's exploration of the Wall at a ceremony held in Doylestown cemetery.
Aug 21, 2008: I took a break from watching the Olympics to mark the centenary of what was, in its own right, an Olympic achievement.
I had not looked at the papers evidencing the feat since hand-carrying them back to Beijing from the United States a few weeks earlier. I placed a large tin box on my table: It was battered, had rusty edges, and was inscribed in white paint with the words "North China".
Carefully, I lifted out some of the box's fragile contents: diaries. Addresses had been scrawled here and there, along with reminders to send photos, in return for hospitality: That's nothing unusual now, but it was then.
Another note recorded payment of a transportation bill, for $96 - silver dollars - not for jeeps, for mules and muleteers. I soon found the page also dated Aug 21 - not 2008, but 1908.
The names of 19 dishes were listed, recording a "sea cucumber feast" accorded by mandarins (the court officials of imperial China) of Jiayuguan at the western end of the Wall to William Geil (1865-1925), the first person to investigate the Great Wall from end to end.
The box contained scores of other sheets. They were yellowed and fragile with age, creased and curled by motion, for almost all were written in China, and carried for several thousand kms in saddlebags along the Wall - and back - and then halfway around the globe to Doylestown, Pennsylvania, in steamer trunks.
Apart from diaries, there were sheets headed "Great Wall Letters" and draft chapters of the first ever book on the subject, The Great Wall of China. Everything before me belonged to Geil, and I had brought them back to China to be exhibited.
Geil carefully photographed his 82-day traverse of the Great Wall in 1908, producing hundreds of glass-plate negatives. From 2004 I took copies of his photographs with me, back to the Wall, curious to discover if the locations were still there, and if so, what changes had happened. Known as "re-photography", this work occupied me for five years.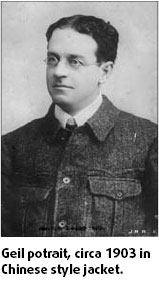 Looking for Geil's Great Wall locations was difficult enough, but finding his "missing Chinese library" proved more so. Unlike most 20th century explorers he took nothing but photographs. Museums in the United States contained no evidence of his great achievement. He was a forgotten American explorer.
I had searched in vain for his estate since 1999. In 2007 I pledged to make a further effort, hoping for a breakthrough to mark the centenary of his exploration in 2008.
I made initial progress by delving into the Geil family wills. Long thought childless, I discovered that William Geil's widow Constance had adopted a little girl, probably her cousin's daughter, Connie. She had inherited the Geil estate. I traced her sons, the adoptive grandsons of William Geil. They shared much family lore with me but said their grandfather's library had been auctioned off in 1960.
Fate proved to me in my favor. In February 2008 I received an e-mail message headed "Geil Information". It was written by Tim Adamsky, a local historian at Doylestown Historical Society, who had found The Wall of Two Williams story on the Web and therefore sought to alert me of a discovery: The society had just been donated boxes of Geil's travel-related materials.
A local collector had purchased the lots in 1960. He died in 2005, and his Doylestown daughters Marilyn and Carol Gustaffson had donated the materials to Doylestown Historical Society on the condition that they should be exhibited.
I traveled to Doylestown in June 2008, to meet the dearest of many Great Wall friends. Immediately his diaries answered many questions: the exact dates of his exploration, his precise route as well as his colorful impressions of the Wall and its people from the saddle as he rode his horse along it.
Adamsky had arranged a viewing of The Barrens, the mansion that William Geil built in 1912, after his book The Great Wall of China became a bestseller. Three special guests were waiting there to join us for the tour: Bradley, John and Robert Laycock. The grandsons of William Geil had not been inside the old family home for 49 years.
I showed the brothers my re-photography work. "It's fascinating to see that you have found so many places where 'Old William' stood with his camera," said Father John Laycock, "and while these paired photos document 'then' and 'now' in the life of the Wall they also provide a 'now' for a man whose exploration in 1908 is being recognized after decades of obscurity."
Steve Osbourne, current owner of the mansion, hosted our visit. He had preserved all of Geil's precious designs relating to his China travels.
Walking up the driveway we were greeted by two replica steles bearing Chinese characters, carved into the side of the house. One pronounced that "Heaven Created the Ocean and Mountains": the original overlooks the seaside terminus of the Wall at Shanhaiguan. The other read "The Martial Barrier Under All Heaven" - a metaphor for the Great Wall - which stands outside the gate of the Jiayuguan Fortress at its western end. I retold a story from Geil's book in which he calculated that the two steles were separated by 1,145 miles as the crow flies.
Behind the house was a 40-m-high pagoda, another tiny part of China that Geil had recreated in Pennsylvania. "It's a copy of Suzhou's Ink Pagoda, admired by Dr Geil during his 1910 journey to all of the then empire's 18 ancient capitals," John Laycock said.
A century had passed. Was it fortune that I had found Geil's China library? Some said it was persistence, others the will of God, some preferred the arrangement of history, many said destiny. Whatever it was, this was my opportunity to honor my old friend.
At 9 o'clock on Tuesday June 23, 2008, 20 or so people gathered around the grave of William Edgar Geil in Doylestown Cemetery to commemorate the centenary of his Great Wall traverse. As my tribute I commissioned a bronze plaque, designed in Beijing. I held The Great Wall of China, the very copy given to me back in 1991, for in this book I had first seen Geil's wonderful photographs: It was the book that had triggered my journey along the Wall in the past and present.
In my tribute I spoke of two pieces of punctuation. Searching for appropriate words for the plaque, I had perused The Great Wall of China, and found a sentence which said much more that the six words that it consisted of: "A journey all along the Great Wall!" It said everything: He made a complete traverse and was enthralled by the experience.
The second punctuation mark was gouged on his headstone, which read: William Edgar Geil Oct 1 1865 - Apr 11 1925. I said that everyone walking through the cemetery could see who was interred here, as well the dates of his birth and death, but precious few knew anything about his life, enigmatically summarized by "the dash" between the dates. By placing the plaque I hoped that would start to change: People would at least now see a map of China, the symbol of the Great Wall and learn that Geil made a journey all along it.
"William Geil," I said, "you were the first man to travel all along the Great Wall, turning over a new page in its long history. Study and appreciation of the Great Wall began with you: Your journey, book and photographs have taught us a great deal. In China we remember you as a great American explorer, and the first international friend of the Great Wall"
William Lindesay worked at China Daily from 1994-95. He is founder of International Friends of the Great Wall.
The Great Wall Revisited, which includes the William Geil Exploration of the Great Wall special exhibit, is being held at The Imperial College and Temple of Confucius Museum, 13-15 Guozijian Jie, Dongcheng District, Beijing until Dec 20, 2008.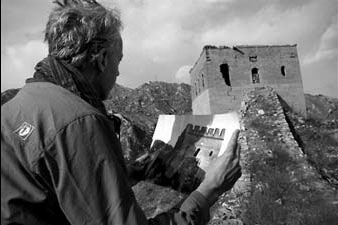 Lindesay finds changes to a watchtower in 2008 that was originally photographed by Geil in 1908. Photos courtesy of William Lindesay
(China Daily 10/29/2008 page20)