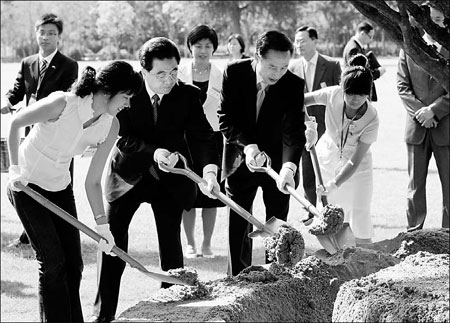 President Hu Jintao (third from left) and ROK President Lee Myung-bak plant a tree with students at the Seoul Forest Park in Seoul yesterday, as part of a weeklong visit by the Chinese leader to three Asian countries. Reuters
SEOUL: It is home to nearly 50,000 trees planted by the city's citizens and contains five zones dedicated to environmental education and protection.
Yesterday morning, the Seoul Forest Park also became the site where Republic of Korea (ROK) President Lee Myung-bak discussed closer cooperation in sustainable development with President Hu Jintao, who was in the ROK capital on a two-day official trip.
The $223 million riverside park, opened in 2005, is considered one of Lee's most prized environmental projects when he was Seoul's mayor.
ROK sources said the Chinese side requested to visit the park, an indication of the importance being placed on environmental protection and strong interest in Lee's work.
Together with about 250 representatives from both countries, the two leaders also planted trees on the site.
The two countries will be able to expand cooperation as a result of the latest summit, Hu, who is the first Chinese leader to visit Seoul twice, said.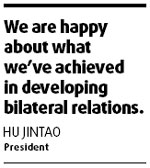 Similarly emphasizing the importance of the ROK's ties with China, Lee said youth exchanges between the two countries will contribute to bilateral relations.
Aside from a red-carpet welcome for the Chinese leader, Lee also hosted a state banquet on Monday night that saw Korean celebrities Lee Young-ae and Jang Nara attending.
Lee Young-ae acted in the TV series Dae Jang Geum, about the first female royal physician of the Joseon Dynasty (1392-1910) of Korea. The series proved a big hit in China.
"I've heard that Mr and Mrs Hu are fans of the Dae Jang Geum series, so we invited Lee Young-ae to the dinner," Kim Eun-hye, a deputy spokesperson for ROK's presidential office, was quoted by local media as saying.
Jang, another popular actress and a singer, performed Korean and Chinese songs at the banquet.
Lee later presented Hu with a pair of porcelain doves, a gesture that coincided with China's plan to send a pair of endangered crested ibis to the ROK in October.
Many saw the warm reception for Hu during his latest trip as a reflection of the evolving relations between Seoul and Beijing.
"The day before yesterday, we saw the 16th anniversary of the establishment of diplomatic relations between China and the ROK," Hu said in a meeting with ROK Prime Minister Han Seung-soo earlier yesterday.
"We are happy about what we've achieved in developing bilateral relations," Hu said.
The Chinese leader left the ROK yesterday for Dushanbe, capital of Tajikistan, as part of the weeklong visit to three Asian countries.
China Daily-Agencies
(China Daily 08/27/2008 page2)