Oprah Forbes most powerful celeb again
Talk show host Oprah Winfrey is the world's most powerful celebrity for the second straight year and for the fifth time ever, according to the 2008 Forbes Celebrity 100 Power List released yesterday.
The annual list also included two couples among its top 10. Actress Angelina Jolie came in at No 3 and her partner Brad Pitt nabbed No 10, while music mogul newlyweds, Beyonce Knowles and Jay-Z, were fourth and seventh.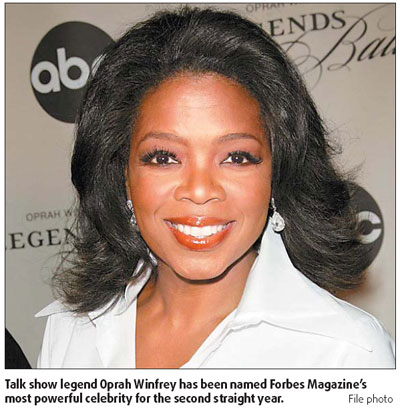 Golfer Tiger Woods remained No 2 and soccer player David Beckham was No 5, while actor Johnny Depp took sixth. Music group The Police nabbed No 8 after reuniting for a successful world tour and British author J.K. Rowling was No 9 after the release of the seventh and final Harry Potter book.

Today's Top News
Editor's picks
Most Viewed