Markham builds bridge for education exchange
By Zhou Jie
Updated: 2008-05-09 07:26
The United States is the first choice of many Chinese students planning to advance their studies, but it is also a country whose visa is the most difficult to get. But that made possible the success of Wen Xue, who has "the golden touch" to people who study or plan to study in the US.
Eight years ago, Wen was still an unknown name in education. That's when he accompanied his wife to Canada and waited for the delivery of their child.
Today he is the founder and president of Canada-based Markham International Education Center Corp, which has eight years' experience assisting Chinese students gain acceptance into US colleges and coaching them to get a visa. Some 87 percent of his clients have received US visas to study.
At least 120 colleges in the US - including Michigan Technological University, Clarkson University, University of South Carolina, and Embry-Riddle Aeronautical University - now authorize his firm to organize education exchange programs in China. By April this year, more than 2,500 Chinese students had crossed the Pacific to study through his programs.
"Every day after taking my wife to work, I spent the whole day in the library. I was fascinated by a book called US Visa Philosophy by Xu Xiaopin, a consultant in career design and studying abroad," he said.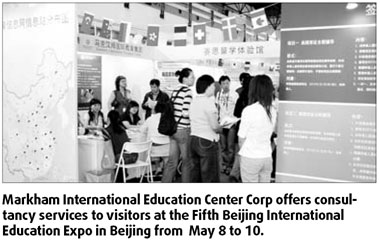 Reading the book carefully, he found that most US colleges and universities want to explore the market in China to attract students, but there were no international education exchange institutes to bridge them.
Believing in a bright future for the concept, he registered Markham International Education Center Corp in Canada in 2000 without worries about his experience in the field - which was zero. As usual, the start was not easy. In the first year, he only had five clients and the meeting with the first is unforgettable.
"When I received the applicant fee of $500 from my first client, I could not hide my excitement. She saw through me at once, asserting that she must be my first customer," he recalled, laughing.
Today, the firm has more than 200 professionals to help customers. The company has branches in Beijing, Shanghai, Guangzhou and Toronto, and opened offices in New York City and 11 domestic cities, including Shenyang, Xi'an, Jinan, Urumqi, Nanjing, Hangzhou, Ningbo, Wuhan, Chengdu, Hefei and Shenzhen.
One of its advantages is its skill at discovering merits of students applying for visas that they may not themselves know.
"Many applicants may not be excellent in English language, nor do they have eye-catching resumes. But we are good at finding their merits, helping them understand American thinking and habits, and giving guidance from resume writing to language and image," he said.
The work has greatly boosted students' self-confidence and enhanced their chances for visas, he said.
Several thousand Chinese students and scholars have fulfilled their dreams of advancing their studies in the US over the past eight years. The experience forever changed the lives of many.
It became member of the US National Association of Foreign Students Advisors in 2001 and the European Association for International Education in 2003.
Many US colleges have now found their Chinese partners for short-term exchange programs or four-year college study programs in China.
More than 30 Chinese high schools and universities, including Tsinghua University, Nanjing University, Renmin University of China and China University of Political Science and Law, have joined with US colleges and begun international educational programs.
Chinese students usually study for one or two years in China and then transfer to a US college. After graduation the diploma is recognized by both countries.
"We expect more domestic colleges to join in the cooperation, and at the same time more US colleges explore China's market through our help. We have the network, the capability and the experience to serve as a solid bridge between the two countries in educational exchange," he said.
(China Daily 05/09/2008 page11)