WB cuts nation's growth forecast
By Xin Zhiming
Updated: 2008-04-02 07:17
China's economic growth may slow to 9.4 percent this year, and 9.2 percent next year, due to weakening external demand caused by the US subprime crisis and a global economic slowdown, according to the World Bank's semi-annual report on East Asia released yesterday.
The bank previously projected China's economy to grow by 9.6 percent this year. The reason for the notch-down is "purely on the external front," said Louis Kuijs, senior economist of the World Bank's Beijing office at the release of the report. "The global economy is worse than anybody has expected."
The US subprime crisis has exacerbated concerns that it will lead to a global slowdown and reduce demand for China's exports, one of the driving forces of the country's brisk economy, which expanded by 11.4 percent last year.
Internally, the fundamentals remain sound. "We remain optimistic about China's domestic economy. We still see strong momentum both in terms of investment and consumption," he said.
"While the uncertain global outlook may slow China's exports, the country's growth is expected to remain robust, and the authorities are well positioned to stimulate demand if needed," the report said, adding that a 9.4 percent growth would still be high by international standards.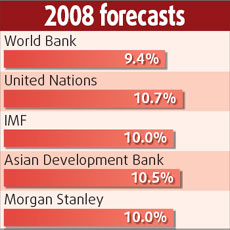 Inflation is the biggest challenge for China as well as in other regional economies. In February, China's consumer price index, a key gauge of inflation, surged 8.7 percent, a 12-year high.
In Singapore, rising food and fuel prices have driven inflation to a 26-year high; a nearly 14-month high in India; and the highest in more than a decade in Hong Kong.
"The challenge is clearly there for policymakers," Kuijs said.
The World Bank report said that growth in East Asian developing economies is expected to come down to 8.6 percent this year from last year's exceptional pace of over 10 percent, adding that rising oil, metal, and food prices will cost East Asia close to 1 percent of GDP.
The rate would still be healthy and domestic demand is now playing a much bigger role in driving growth in the region, said Vikram Nehru, the World Bank's chief economist for the East Asia and the Pacific.
The report said the regional financial sector's exposure to the US subprime crisis is "relatively limited", and concentrated in a few institutions of a small number of markets.
Although China is the largest overseas holder of US mortgage-backed securities - approximately $260 billion - mostly through the central bank's international reserve holdings and also through holdings of commercial banks, most of these holdings are backed by US government agencies and therefore secure, the report said.
(China Daily 04/02/2008 page1)