Got to have Seoul
By Ye Jun
Updated: 2008-03-01 07:27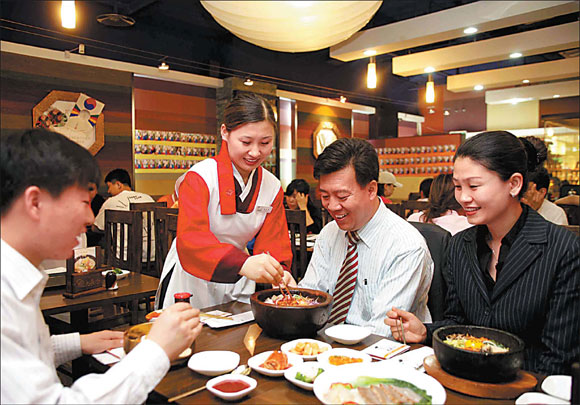 Chinese people have grown accustomed to seeing South Korean stars on TV, in popular soap operas and advertising local products. But long before the arrival of South Korea's entertainment elite came its restaurateurs, who have worked hard to see the Korean meal established as a firm favorite of diners here.
Capitalizing on the Chinese appetite for his country's cuisine as well as its popular culture, South Korean businessman Ohn Dae Sung (pictured second from right), 48, named his Beijing restaurant for the popular TV drama, Dae Jang Geum. Opened in 2006, the restaurant is adorned with pictures of Ohn's daughter, a senior high school student, clad in the traditional Korean dress worn by actress Lee Young Ae in Dae Jang Geum. Ohn has since opened nine restaurants with the same name in Beijing, plus a Korean noodle eatery.
The population of South Koreans living in China is estimated at 700,000, with 120,000 of those in Beijing, says Association of South Korean People in China deputy director Park Je-Yong. Wangjing area accommodates China's biggest South Korean community of 70,000. Wudaokou area has a Korean population of 30,000. With the growth in population came the flourishing of the service sector.
China Cuisine Association deputy director Bian Jiang says the first Korean grill restaurant appeared in the 1980s, opened by people from the Democratic People's Republic of Korea.
"Korean grilled meat has a distinct style and flavor," Bian says. "The foods are rather balanced in nutrition. There are a lot of vegetables, and a low level of fat. Korean chili sauce caters to the taste of modern Chinese, who, because of heavy workloads, love to eat spicy food."
Bian puts the number at Korean restaurants in Beijing at more than 1,000. The Wangjing area alone hosts more than 200 Korean style restaurants. Of the total number in the capital, some 60 per cent are owned by Chinese of Korean nationality. These restaurants, such as Han Na Shan and Quan Jin Cheng, offer Korean style foods catering more to Chinese people's taste, at a reasonable price.
"In the past few years, more than 500 small and middle South Korean restaurant brands tried to operate in China. But 80 per cent of them lost money and most of them pulled back," says Ohn, who is director of a South Korean restaurant association of 50 local business owners.
Ohn conducted a survey investigating his customers' tasting preferences. He found differences in taste, as well as pricing expectations, to be two problems faced by restaurateurs.
"Compared to Korean people, Chinese people prefer their foods to taste slightly sweeter, slightly saltier, or a bit sour," he says. Among 50 dishes in his restaurant, there are now 10 catering specially to Chinese tastes.
While many restaurants opened by South Koreans focus on Korean customers, Ohn has designed his restaurants' decor and foods to be fashionable, targeting young, fashion-aware Chinese.
Lee Hee Myung, a fellow Seoul businessman, owns Hanchon Korean Restaurant, specializing in beef soup, with three branches in Beijing, and one in Tianjin. Ohn and Lee have brought price levels down to comfort zones for Chinese customers, whose average spending is around 50 yuan per person. A greater variety of South Korean food is also being introduced to local palates. are also introducing more and more varieties of Korean food to local palates.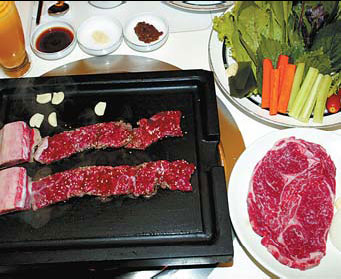 "Up to now, most Chinese people's concept of Korean foods are just kimchi, barbeque meat, hot pot beef noodles, and bimbinbab," Bian Jiang says. "But that is set to change, with some recently opened up-market South Korean restaurants, which have introduced a much bigger range of Korean foods."
New restaurants are daring to stray from safe, traditional Korean elements. Bian cites the sleek black glass and elegant wooden tables at Ai Jiang Shan, a chargrill restaurant on Jiangtai Xilu. Nolboo, a famous South Korean restaurant opened in 1987 with more than 500 chains in Asia, has already opened at Xiaoyun Lu. Obaltan (Stray Bullet), named after a South Korean movie, has opened both in Shanghai and Beijing's Wangjing. Gaon Korean Restaurant in LG Twin Towers provides traditional Korean palace style dining.
"These new restaurants will certainly further Chinese people's understanding of the Korean cuisine," Bian says.
At his new Hanchon restaurant near Lido, Lee has expanded the menu beyond the signature beef soup. He is working to open another two restaurants in Beijing and Shanghai.
Ohn Dae Sung is even more ambitious.
"My aim is to become one of the most loved foreign catering brands in China. My ultimate aim is to build 999 restaurants in China. I will bring my restaurant to go public at the stock market," he says. "Just wait and see in five years."
(China Daily 03/01/2008 page5)