Football world honors Real Madrid legend Di Stefano

Updated: 2008-02-19 07:36
MADRID: Real Madrid great Alfredo Di Stefano was honored by world football's governing bodies, his former club and fellow players in an emotive celebration of his life in Madrid on Sunday.
The 81-year-old received a special president's award from UEFA chief Michel Platini, who called the Argentine forward "a great amongst the greats", while contemporaries described him as the most complete player to have graced the game.
"In the names written in gold in the history of our sport there is a special place for Alfredo Di Stefano," Platini said during an award ceremony at the Bernabeu. "The history of football simply can't be imagined without you.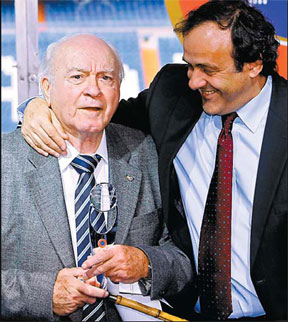 Real Madrid great Alfredo Di Stefano (left) is embraced by UEFA President Michel Platini after receiving a special president's award during his tribute at Madrid's Santiago Bernabeu stadium on Sunday. Reuters
"It is the first award I will present as UEFA president and only the greats will receive this honor. A sincere thank you for all you have done for our marvelous sport."
Di Stefano, who began his career at River Plate and made his name as a prolific goalscorer with Colombian side Millonarios, transformed Real Madrid into the most successful on the continent when he guided the team to victory in five successive European Cups between 1956 to 1960.
Twice named European Footballer of the Year in 1957 and 1959, he scored 418 goals in 510 official games for Real and notched up close to 900 goals in an illustrious career that spanned over 20 years.
"I don't deserve all this, you've gone over the top, but I'll accept it all the same," said Di Stefano with his characteristic dry wit.
"I'm not used to speaking like this and I'm laughing so that I don't cry, but thank you and thank you too to UEFA for allowing me to play this match at home in Madrid so that I can avoid taking a flight, something I'm not keen on.
"I was always a team player and so I would like to dedicate this honor to all my teammates and all those players who have battled away to compete in this sport."
Real legend
A statue of the player portraying his celebration of his goal in Real's 4-0 win over Hungarian side Vasas in the semi-finals of the 1958 European Cup was then unveiled at the Alfredo Di Stefano stadium in Valdebebas where Madrid's reserve team Castilla plays its home games.
"Today is a great day for Real Madrid because we are paying tribute to a footballing legend and a person who contributed to making Real Madrid the great club that it is," said Real Madrid president Ramon Calderon.
FIFA president Sepp Blatter said Di Stefano had been a childhood idol of his.
"You were my hero when I was 14 or 15 because you represented a totally new philosophy of football. You will always embody the ideas of loyalty and fair play in football."
Former Portugal international Eusebio, who was in the Benfica side that beat Real 5-3 in the final of the European Cup in 1962, described Di Stefano as "the most complete footballer in the history of the game".
French striker Just Fontaine, who was in the Stade de Reims side that lost 2-0 to Real in the 1959 final, agreed, saying that he ranked Di Stefano alongside Brazilian great Pele.
"For me the two best players were Alfredo and Pele," said the Frenchman. "Alfredo is only a little step below Pele because he did not have the good fortune to play at the World Cup.
"He attacked, he defended, he passed the ball, he fought hard and did all of that in a career that lasted over 20 years. He had everything."
Agencies
(China Daily 02/19/2008 page22)