Clinton, Obama jostle for lead

Updated: 2008-02-05 07:23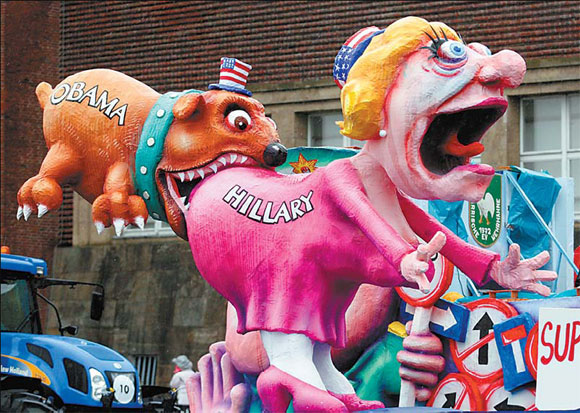 A carnival float satirizes the US Democratic presidential nomination race during the traditional Rose Monday carnival parade in Duesseldorf yesterday. The Rose Monday parade is the highlight of the German street carnival season. Reuters
WASHINGTON: Hillary Rodham Clinton and Barack Obama are jostling for the lead going into today's coast-to-coast presidential primary contests in the US, while Republican frontrunner John McCain aims to lock down his party's nomination by squeezing main rival Mitt Romney out of the race.
McCain has a substantial lead in polls on the Republican side, but the Democratic race is far from clear.
One US national poll shows senators Clinton and Obama, locked in a historic race for the party's nomination, tied going into Democrats' 22 contests on "Super Tuesday", while another shows Clinton with a slight lead. A poll released yesterday even showed Obama leading slightly in California and Missouri. The polls may vary, but they show how Obama, who would be the US first black president, has closed in on Clinton's once strong lead.
On Sunday, Obama and Clinton were courting each other's core voters - blacks and women - as they rallied for an edge.
In the GOP race, McCain is looking to beat Romney on his home turf. Yesterday, he was taking his campaign to Massachusetts, a state where Romney served as governor, as he looked to knock out the millionaire former businessman on "Super Tuesday" when Republican contests are held in 21 states.
The Arizona senator looks to do well among moderate northeastern Republicans after his victory in Florida's primary on Jan 29 led New York's former mayor Rudy Giuliani to quit the race and endorse McCain. He has the backing of key state California's Governor Arnold Schwarzenegger too.
Gone from McCain's recent campaign stops is a mention of Romney, who he recently has lumped in with the Democrats on the question of when US troops should leave Iraq.
"The first thing we've got to do after Tuesday is unite this party," McCain says repeatedly these days - as if the 21 states holding caucuses and primaries this week are simply a formality.
Romney continues to hammer away at his assertion that McCain is weak on economic issues and is too much of a maverick for the conservative party.
"If we want a party that is indistinguishable from Hillary Clinton on an issue like illegal immigration, we're going to have John McCain as a nominee. That's the wrong way to go," Romney said.
A survey of California Democrats showed Clinton had 36 percent, Obama 34 percent, with 18 percent undecided. The Field Research Corp poll, conducted from Jan 25 to Feb 1 had a margin of error of 4.5 percentage points.
A Reuters/C-SPAN/Zogby poll, released yesterday, shows Obama leading with 46 percent to Clinton's 40 percent in California, and ahead with 47 percent to Clinton's 42 percent in Missouri.
The polls had margins of error of 3.2 percentage points in California and 3.4 percentage points in Missouri.
Hillary Clinton spoke on Sunday at the Greater Mount Carmel Missionary Baptist Church in St. Louis, saying it "was a great moment" for the party and the US when a woman and a black man emerged as the two remaining contenders for the Democratic nomination.
With McCain emerging as the likely Republican nominee, Obama and Clinton argued in Sunday TV interviews over who would have the best chance of defeating him in the November election.
Obama, speaking on CBS's Face the Nation, said Republicans and independents would be more inclined to support him than Clinton in the November general election: "I don't think there's any doubt the Republicans consider her a polarizing figure," he said.
But Clinton suggested that Obama, elected to the Senate in 2004, would be more susceptible because he has not been scrutinized for years as she has. "I've been through the Republican attacks over and over again," she said on ABC's This Week.
Among Democrats, a new nationwide poll by the Pew Research Center shows Clinton at 46 percent and Obama at 38 percent, with the number of undecided voters increasing to 15 percent. Clinton had led by 15 percentage points in mid-January.
The same poll shows McCain leading among Republicans with 42 percent, while Romney trails with 22 percent and former Arkansas Governor Mike Huckabee has 20 percent. McCain is up 13 percentage points since mid-January.
Agencies
(China Daily 02/05/2008 page1)