Fast food giant serves up poor sales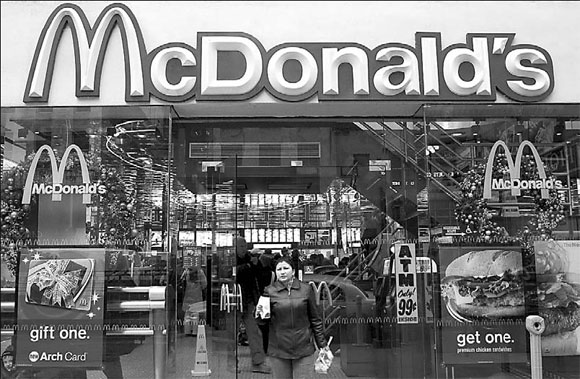 A woman exits a McDonald's restaurant in New York. Bloomberg News
McDonald's Corp said on Monday (local time) that US same-store sales in December hit the lowest monthly level in nearly five years, sending its stock down as much as 8.8 percent and weighing on the fast-food sector.
The burger chain's US December results spooked investors, who worried that consumers had begun cutting back on spending at inexpensive and traditionally recession-resistant fast-food restaurants.
The world's largest restaurant chain operator, which also said tax benefits and overseas sales boosted its fourth-quarter profit above analysts' estimates, cited softer consumer spending and severe winter weather for flat US December sales at restaurants open at least 13 months.
"Obviously, the Street's not crazy about the flat same-store sales. They're nervous about the US consumer," said Gary Bradshaw, portfolio manager at Hodges Capital Management, which controls about 200,000 McDonald's shares.
Morningstar restaurant analyst John Owens said McDonald's US operation has in the past foreshadowed performance in the rest of the world, but he cautioned that investors should not read too much into a single month and that McDonald's US same-store sales rose 3.3 percent for the quarter.
Chief Executive Jim Skinner said in a conference call that weather hurt US sales by about 2 percentage points in December.
Skinner estimated that US economic conditions could shave 1 to 2 percentage points from domestic same-store sales for as long as weakness persists, and forecast a 1.5 percent rise in January US same-store sales.
"You can blame things on the weather once or twice. They haven't done it much so I'll give them the benefit of the doubt," said Carl Sibilski, hedge fund manager at Oyster Capital Management.
The Dow Jones US Restaurants and Bars index was off 4.7 percent as investors sent down shares of fast-food rival Yum Brands Inc, operator of the Pizza Hut, Taco Bell and KFC chains, and Chipotle Mexican Grill down 2 percent and 2.7 percent, respectively.
Casual dining chains, which already have felt the pinch, were also hit. Shares in Chili's Bar & Grill owner Brinker International Inc were off 2.4 percent.
McDonald's said fourth-quarter net income was $1.27 billion, or $1.06 a share, compared with $1.24 billion, or $1 a share, a year earlier.
Earnings included 33 cents a share in tax benefits resulting from the completion of the Internal Revenue Service's examination 2003-2004 tax returns and tax developments related to foreign operations, the company said Excluding the tax items, earnings were 73 cents a share, compared with the average analyst estimate of 71 cents, according to Reuters Estimates.
Overall same-store sales were up 6.7 percent during the fourth quarter, as the company's broad international reach helped offset any impact from the slowing US economy.
McDonald's lower-priced items have somewhat insulated it from the difficulties dogging many other restaurant and retail chains as US consumers juggle falling home prices as well as higher food and gas prices.
Revenue rose 6 percent to $5.75 billion. Analysts on average forecast $5.68 billion, according to Reuters Estimates.
Same-store sales rose 3.3 percent in the quarter in the United States, 8.3 percent in Europe and 11.4 percent in the Asia-Pacific, Middle East and Africa segment.
Agencies
(China Daily 01/30/2008 page17)
Today's Top News
Editor's picks
Most Viewed