Top 10 M&A bids picked
By Chen Jialu
Updated: 2008-01-08 07:21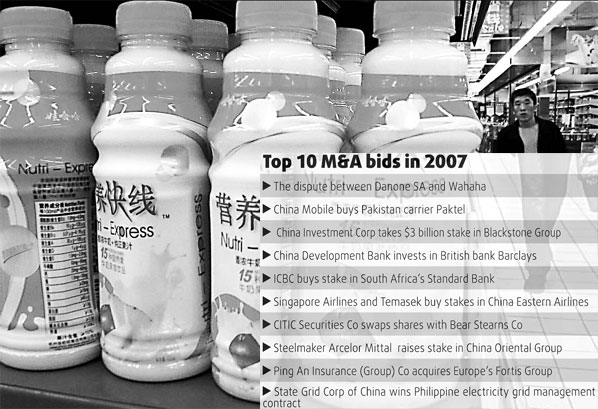 Last year witnessed hectic merger and acquisition activity, with blockbuster buyout deals often altering the competitive landscape in a number of industries.
China Mergers and Acquisitions Association yesterday released the country's top 10 M&A bids in 2007, which mostly comprised the pioneering cross-border acquisition bids that have been under the media spotlight in the past year.
The list was compiled after the association invited financial experts and netizens to select the 10 most influential M&A bids from a list of 30.
Against the backdrop of the US subprime mortgage crisis, the nation's financial sector played a major role in China's M&A headline makers, with five bids in this sector showing up in the list, defying the global credit crunch.
The country's new State investment agency, China Investment Corp plowed $3 billion into private equity fund Blackstone Group's IPO, underscoring China's increasing boldness in overseas investment and diversifying its rising forex reserves.
Soon after, China Development Bank found itself at the heart of a bidding war by buying into British Barclays Bank as Barclays took on a consortium of European banks led by Royal Bank of Scotland Group PLC to acquire Dutch banking giant ABN Amro Holding NV.
After these two milestone cross-border M&As, the Industrial and Commercial Bank of China sensed an opportunity in South Africa and poured $5.5 billion into that country's largest commercial bank, Standard Bank, for a 20 percent stake, the biggest foreign acquisition by a Chinese bank to date.
Chinese insurer Ping An group sought a 4.18 percent stake for 1.81 billion euros in Fortis, a Belgian financial service provider running banking and insurance businesses, becoming its biggest single shareholder.
Heavyweight State-owned enterprises also showed a keen interest in the markets of developing countries.
China Mobile Communications bought 88.86 percent of Paktel, the fifth largest carrier in Pakistan, from Luxembourg-based Millicom International Cellular. The deal was valued at $460 million.
A consortium led by China's biggest State power company, State Grid Corp of China won a $3.95 billion bid for a 25-year contract to manage the Philippines' electricity grid by narrowly beating the one led by food and drinks maker San Miguel. It could well be the largest privatization deal in Philippines' history.
Foreign companies also tried to snap up stakes in their Chinese counterparts as a stepping-stone to expand in the world's fastest growing market.
The world's largest steelmaker, Arcelor Mittal, bought a 28 percent stake in China Oriental Group for $647 million.
But some foreign companies' acquisition bids didn't go smoothly. French food and beverage maker Group Danone SA's bid for control of its joint venture with Wahaha resulted in a bitter war of words, while Singapore Airlines and Temasek are still struggling to obtain a stake in China Eastern Airlines.
(China Daily 01/08/2008 page14)