Nestle nourished by pet food, ice cream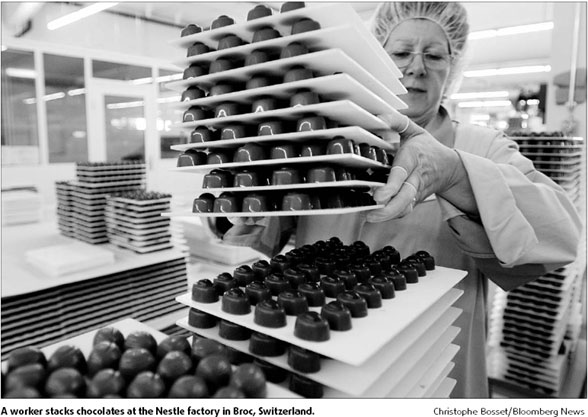 Nestle SA, the world's largest food company, increased third-quarter revenue by 10 percent after raising prices for Dreyer's ice cream and Purina pet food.
Sales climbed to 27.6 billion Swiss francs ($23 billion) from 25.1 billion francs a year earlier, according to nine-month figures released yesterday by the Vevey, Switzerland-based maker of Nescafe. The median of eight analysts' revenue estimates gathered by Bloomberg was 27.3 billion francs.
The company said yesterday cost pressures are rising so far in the second half. Nestle, which expects to spend 1.5 billion francs more on milk this year, raised prices of dairy products 5 percent in the first half to recover higher costs for commodities. The company has said it expects sales growth to exceed its long-term targets this year.
"They're solid, positive sales figures, particularly the organic growth in Europe," said Jon Cox, an analyst at Kepler Landsbanki in Zurich, adding that analysts will probably raise their earnings forecasts. "The market will be pretty positive."
The company said yesterday Paul Polman will lead its business in North and South America from February, and it's naming James Singh to replace him as chief financial officer from January. Singh is now head of acquisitions and business development.
Robin Tickle, a spokesman for Nestle, declined to confirm Bloomberg's calculations of third-quarter sales based on the nine-month figures.
Agricultural prices
The stock added 0.4 percent to 517 francs on Wednesday. Nestle shares have gained 18 percent in the past year, giving the food maker a market value of about 203 billion francs.
"Nestle has demonstrated across its portfolio and especially in nutrition, pet care and beverages that it has pricing power," Marco Gulpers, an analyst at ING Wholesale Banking, said before the report. He rates the stock "buy".
Agricultural prices have risen to record levels on economic growth in developing countries, a drought in Australia, plus increased demand for corn used to produce ethanol.
Skim-milk powder, the benchmark for world trade, has more than doubled in the past year on the Chicago Mercantile Exchange. Prices for robusta coffee surged to a 10-year high in London last week.
"While this has a dampening effect on real internal growth, Nestle's outlook for 2007 as a whole remains unchanged: above-target organic growth, as well as a sustainable margin development," the company said.
Nestle previously forecast that sales excluding acquisitions, divestments and currencies will rise about 7 percent this year. Its long-term target is for growth of 4 percent to 6 percent.
Cost pressures
Sales on that basis rose 7.2 percent in the first nine months, compared with 7.4 percent for the first half.
Excluding price increases, acquisitions and currencies, nine-month sales rose 4.5 percent, less than the median estimate of eight analysts of 5 percent. Price increases boosted nine-month sales 2.7 percentage points.
The KitKat maker last month picked Paul Bulcke, the head of its business in North and South America, as chief executive officer, passing over Polman, who analysts expected would get the job. Bulcke will replace Peter Brabeck-Letmathe in April.
Nestle in August said first-half profit rose 18 percent, the fastest pace in two years, and that it would spend a record 25 billion francs buying back shares over three years.
The maker of Perrier said last month rainy and cold summer in northern Europe and North America would weigh on second-half sales of bottled water.
Nestle, which also makes Neslac and Good Start infant formulas, spent $8 billion buying nutrition companies this year, seeking brands with sales that are growing faster than the rest of the food industry.
The company bought the Gerber baby-food brand from Swiss drugmaker Novartis AG for $5.5 billion in August. Nestle also bought Novartis's medical nutrition business, which makes foods for hospital patients, for $2.5 billion in July.
Nestle has said it expects the purchase of Gerber will add sales of $1.95 billion this year.
The food company said it is renaming its Food Services business Nestle Professional. The unit will be dedicated to the out-of-home food and beverage market. Marc Caira, the current head of Food Services, will manage the business.
Bloomberg News calculated third-quarter sales by subtracting first-half results from nine-month figures.
Bloomberg News
(China Daily 10/19/2007 page16)
Today's Top News
Editor's picks
Most Viewed