Day traders hungry for Shanghai gold futures
By Wang Lan
Updated: 2007-09-27 07:21
The approval of gold futures' debut on Shanghai Futures Exchange (SHFE) is catching the attention of not only institutional investors but retail investors looking for an attractive alternative to shares and stocks.
The SHFE has released the draft contract on the prospective gold futures. The contract was clearly designed with an adequately low margin requirement to entice retail investors. The contract's terms must be ratified by regulators.
The draft contract specifies the contract size at 300 grams per hand. Based on the current spot price of gold at 170 yuan per gram, the value of a contract is around 51,000 yuan. As the margin requirement for trading is set at 7 percent of the contract value, the threshold for access to the proposed gold futures market is around 3,570 yuan.
Teng Jiawei, SHFE's executive vice-president, says the exchange is set to host simulated trading on gold futures to better educate retail investors of potential risks, which are considerably higher than buying shares.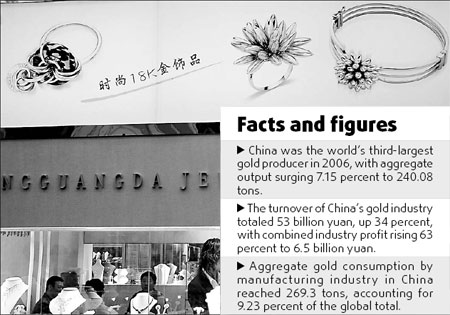 Analysts predict that the relatively low trading threshold will attract many retail investors to enter the market. Their active participation is expected to help boost market liquidity, which is crucial to enticing institutional investors.
"It is good news for individual investors, for we are provided with more investment options," said Song Di, a 26-year-old junior executive at a Shanghai-based human resources firm.
"Holding gold has been a traditional preference for many Chinese people. The possession of gold is usually regarded as a symbol of personal wealth. The introduction of gold futures is expected to be welcomed by many individual investors and it will become an actively traded product in the future," Li Jingyuan, a fund manager at Haifu Futures Co Ltd, told China Daily.
"I would like to buy some gold futures once the trading is started," said 25-year-old Yuan Yuan, a customer service executive at a Japanese advertising company. "The trading threshold is set at a level that I can afford and I want to have a try in the new area outside the stock market."
Because the price of gold price tends to run contrary to other capital markets trends, buying gold can be a good way to cut a profit during a bear market or when the US dollar is under pressure. It is also necessary for investors to include gold in their portfolios to diversify their investments to serve as a balance to shares in an increasingly volatile market.
"Gold futures are expected to be traded more actively than other metal futures, because investors consider gold to be more of a financial instrument than just a metal," said Ma Xiaofei, an analyst with China International Futures (Shanghai) Co Ltd (CIFCO).
Individual investors should first measure their ability to manage risk and adjust the percentage of gold in their portfolios. The proportional share of each investment needs to be rearranged according to changes in macroeconomic conditions that affect individual markets differently, investment experts advise. For most investors, keeping a 10 to 20 percent investment in gold in their portfolios is appropriate, analysts say.
China's gold market provides common investors with many gold products including gold bullions and bars, paper gold and gold coins. Analysts say the proposed trading in gold futures on the SHFE will greatly expand the flexibility and opportunity in the current gold market by providing both a hedging mechanism and a speculative instrument.
Looking at the international gold market, derivatives accounted for more than 90 percent of total trading volume.
Anticipation of a robust global economy in the coming years has prompted enthusiasm in gold futures; gold demand is largely stimulated by economic development. The worry of further US dollar devaluation also adds to the lure of gold futures.
(China Daily 09/27/2007 page15)