LONDON: Arguably the most important game of the Premier League season takes place at Bramall Lane on Sunday when Sheffield United face Wigan Athletic with each side aware that victory will keep them up for at least another year.
With relegation estimated to cost anything between 30 and 50 million pounds, staying in the top flight means everything.
One other club, West Ham United, go into Sunday's final round of fixtures with fear at their shoulder and they face buoyant champions-elect Manchester United at Old Trafford. West Ham need a point to ensure they do not join Watford and Charlton Athletic in the second division next season.
Sheffield United and West Ham have 38 points while Wigan are on 35.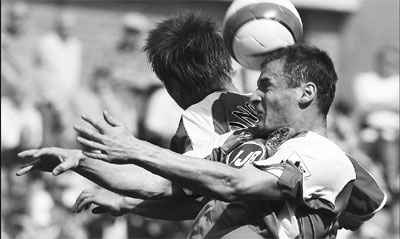 Wigan Athletic's Lee McCulloch (right) challenges for the ball during their English Premier League soccer match in Wigan on May 5. Wigan face Sheffield United on Sunday in a life-and-death match with each side aware that victory will keep them up for at least another year in the premiership. Reuters
If Sheffield win or draw they will be safe and Wigan will go down while three points for Wigan keeps them safe and would leave Sheffield needing West Ham to lose at Old Trafford. West Ham could still survive in the unlikely scenario of a narrow defeat combined with Sheffield shipping four or more at home.
Wigan manager Paul Jewell must wonder how it has come to this. A season that for so long looked promising has gone horribly wrong as a return of just three points from 24, culminating in last week's home defeat by Middlesbrough put them into the bottom three for the first time all season.
Jewell has tried to put a positive face on Sunday's match. "If we win we're safe, if we lose we go down, you couldn't really get anything simpler," he said. "Knowing that you are not depending on any other results is what any manager would want."
Sheffield United boss Neil Warnock, whose side were favourites to go down after one season, said he was looking forward to the showdown. "We should relish it," he said. "It's an adventure I'm enjoying and I'm going to try to enjoy it this weekend."
Should Warnock's team fail they will hope that Manchester United are not too distracted by their celebrations and by next week's FA Cup final against Chelsea to allow West Ham to claim the point or even victory that would see them safe.
Their impressive 3-1 win over Bolton Wanderers last Saturday was their sixth victory in eight games and gave them real hope of survival after looking down and out a couple of months ago.
Legal challenge
There then remains the little matter of a possible legal challenge against the Premier League's decision not to dock them any points for breaking rules over the transfers of Carlos Tevez, outstanding in recent weeks, and Javier Mascherano but that will be far from the players' minds on Sunday.
The only other major issue still to be decided is the UEFA Cup places. Fifth-placed Everton are virtually assured of one of them so can travel in a relaxed frame of mind to take on runners-up Chelsea.
Tottenham Hotspur, who reached the quarter-finals of the UEFA Cup this year, should get a return ticket as they have a home game on Thursday against Blackburn Rovers before Sunday's home sign-off against Manchester City.
Bolton, in pole position for most of the season, suddenly find themselves up against it and might need to beat in-form Aston Villa to avoid a double dose of depression following the departure of manager Sam Allardyce last week.
Reading boss Steve Coppell says his team is not ready for Europe after a dream first Premier League season and will not want to risk it by winning at Blackburn.
Liverpool and Arsenal, together on 67 points, will each want to snatch third place but the reward is only pride and yet more cash, as both are already assured of slots in the Champions League qualifiers.
Liverpool with a two-superior goal difference, host Charlton while Arsenal visit Portsmouth, who still have a shot at a UEFA Cup slot.
Agencies
(China Daily 05/11/2007 page23)