Another day, another Western website opens in China.
Only, unlike the plethora of Beijing- and Shanghai-based sites, which offer amusing oddities and petty gripes in English, Jongo is aiming at the bigger picture: a comprehensive view of China.
The people behind the website (www.jongo.com) took an opportunity in Shanghai last week to unveil their ambitious plans to make it a one-stop-portal for both visiting foreigners and those already living and working in China. The difference, however, is that Jongo hopes to cover the entire country.
"There is a definite lack of transparency regarding information on China for the outsider," Jongo Chairman Wade Smith said. "We want to fill that gap by offering all that is available on one giant free directory."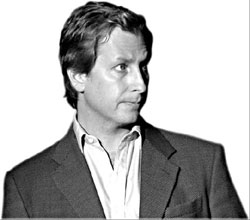 A cursory glance at Jongo's website proves that all the essentials are in place news, views, reviews, weather updates, language tools, videos, and a surprising number of pictures depicting "super-amazing!" girls in bikinis.
Jongo is a Shanghai-based Internet company with international operations in Hong Kong, where Smith is based. It is registered in Jersey, one of the United Kingdom's Channel Islands, and thus enjoys offshore privileges. Its catchy name derives from the sound of the Chinese characters for China.
Jongo's ambitions to be the first English-language website to cover China nationwide seem vast, but so far its figures are quite impressive.
The website has 100,000 images, 20,000 news items, 30,000 restaurant reviews, and, although it is still concentrating on Beijing and Shanghai, it promises to reel in the second- and third-tier Chinese cities soon.
"We want to take portal hybrids to the next level," said Smith, an investor in emerging technology markets, who previously launched a Russian business website in English in Moscow.
"We aim to provide solid content on all the facets of Chinese life, both the glamorous and not-so-glamorous, so that foreigners will get a real taste of China."
Smith also revealed that Jongo would soon be available in Japanese.
The website is aimed at everybody, but its launch party had a distinctly "guys-meet-girls" feel to the proceedings, complete with sexy dancers and a guest speaker in the form of high-octane Swedish explorer Johan Nilson, who hopes to climb Qomolangma later this year and plant the Jongo flag on its summit.
Subtle this is not.
Yet Jongo does have the muscle (70 full-time staff and climbing). It also hopes to introduce an interactive mapping system on running business reports and an exhaustive travel guide for the entire country.
Smith is not afraid of investing in such a high-risk project. "It will take patience and time," he said, "but we are not going to sell off Jongo to the first bidder. We are talking long term. There are 100 million people currently learning Chinese globally. We think the market is there to succeed."
(China Daily 02/09/2007 page5)