Rural CPC member's contribution is family tradition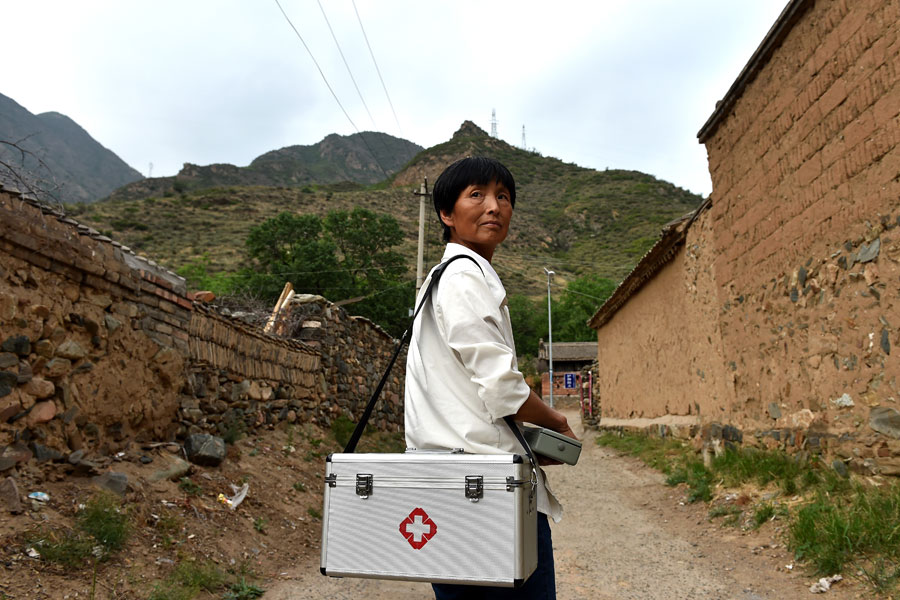 Liu Guizhen travels on foot to visit her patients at Liangjiadian village, which is a 30-minute walk from her own, in North China's Shanxi province on June 13, 2017. [Photo/Xinhua]
The 54-year-old's arms are strong and muscled with blue serpent-like veins standing out, a legacy of her time. Standing at 1.53 meters tall and weighing up to 40 kilograms, Liu Guizhen has played multiple roles on an everyday basis.
Though petite, Liu is a giant of a woman who has shouldered the responsibilities of being a doctor, teacher, Party secretary and head of Duanjiawan village in North China's Shanxi province for decades.
It is a remote mountainside village of 54 residents living 8-kilometers away from a small-town clinic. Locals usually tough it out rather than see a doctor when they get sick. Before Liu, if people with severe illness needed medical treatment, they might wait to make the journey to the clinic until doing so became a last resort.
It was on a day in 1978 when the then-15-year-old was involved in a car accident on her way to sit the annual national college entrance exam.
"It was pure coincidence but frustrating because I missed the exam," said Liu.
As the only high school graduate in the village, Liu was chosen to be trained as a rural health practitioner. From learning basic medical skills to handling cases on her own, Liu always kept herself informed about the latest medical developments and healthcare reform.
This came into play in 2007 when one of her patients, Chen Zhiliang, was suffering from a serious illness. Liu arranged medical insurance for him under China's new rural cooperative medical system that helped cover half of Chen's 30,000-yuan ($4,500) medical bill.
In addition, she sells medicines and prescription drugs at the cost price.
"I have never thought of making money from the medicines, even though I'm as poor as my fellow villagers," said Liu, whose family's income relies heavily on farming.
"She is different from other rural medical practitioners, she never charges any fees," said a villager named Guo Zhigong.
Come rain or shine, day or night, Liu never minds being on-call or ready for after-hours visit when her patients need her.
To alleviate Liu's financial burden, the local government has granted her a public healthcare allowance of 400 yuan ($60) per month since 2012.
"I managed to make ends meet without the allowance in the past. With the money now, I can help them more," she said.