Bullet train starts journey from Beijing to Xiongan New Area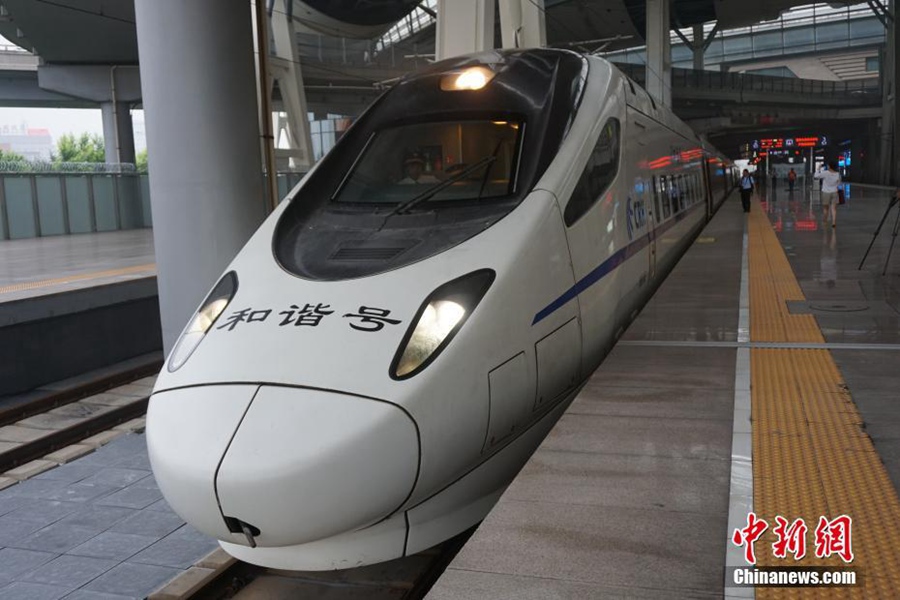 A bullet train is ready to leave Beiijng South Railway Station to Xiongan New Area on July 6, 2017. [Photo/Chinanews.com]
The first bullet train running from Beijing to Xiongan New Area left Beijing South Railway Station at 8:08 am on Thursday, the news website Chinanews.com reported.
The train D6655 will take about 80 minutes to reach Baiyangdian Railway Station in the Xiongan New Area. The train's terminal is Baoding Railway Station, North China's Hebei province. The whole journey will take one hour and 50 minutes.
According to the schedule, a train will leave Baoding and go through Xiangan New Area en route to Beijing at 10:26 am. In the afternoon, a train will depart Beijing at 1 pm and another train will leave Baoding at 4:15 pm.
Apart from the railway stations in Beijing, Baoding and Xiongan, the trains will also stop at Baozhou, Baigou and Xushui.
China announced plans to establish Xiongan New Area in April.
Located some 100 kilometers southwest of downtown Beijing, Xiongan New Area will mostly cover Xiongxian, Rongcheng and Anxin counties in Hebei province.