China inches closer to completing world's first 'rail above road bridge'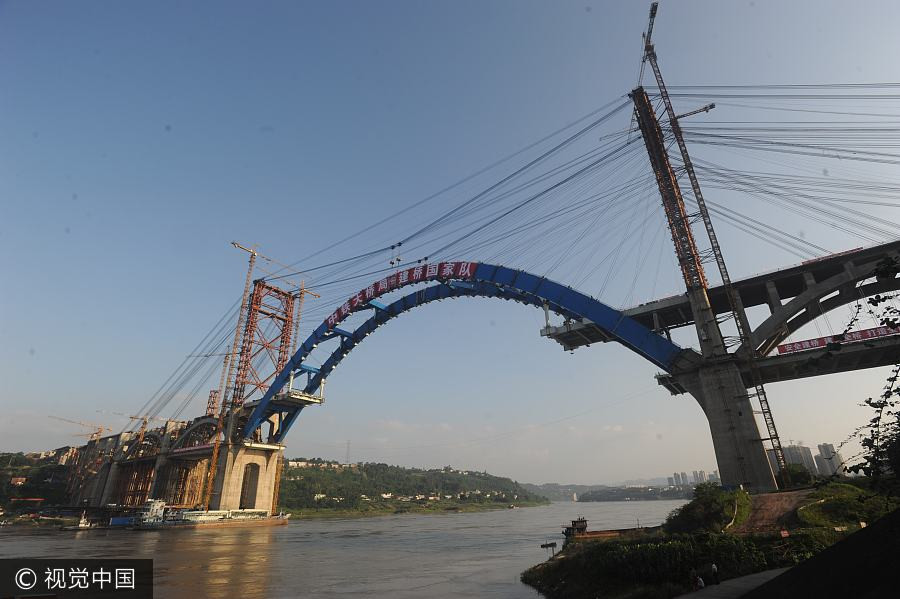 The two sections of the main arch of the Jinshajiang Bridge are successfully joined together in Yibin city, Southwest China's Sichuan province, June 28, 2017. [Photo/VCG]
Engineers successfully joined together the two sections of the main arch of the Jinshajiang Bridge in Yibin city in Southwest China's Sichuan province on June 28, inching closer to completion after work began in December 2013.
The Jinshajiang River overpass, one of the key parts of Chengdu-Guiyang high-speed railway under construction, will be world's first rail-road combined bridge with railway line on top deck, according to CCTV.
The Jinshajiang Bridge, which will have a four-lane railway and a six-lane highway, is 1874.9 meters long, with a 336-meter-wide span on its main arch. The railway track will run 32 meters above the highway, the highest in the world.
A rail-road combined bridge usually has road on top. However, a road in Yibin will connect with the highway so the bridge faced height restriction. Also, considering the mountainous terrain in the area, building rail track on top meant less tunnels.
The Jinshajiang Bridge in Yibin city is part of the Chengdu-Guiyang high-speed rail, a 632.6-kilometer-long link connecting Southwest China's Chengdu city and Guiyang city.
The Chengdu-Guiyang high-speed railway is expected to open by December 2019. When completed, it would take only three hours to travel between the two cities from the current 12 hours.