'Seagull mother' feeds thousands of birds at own expense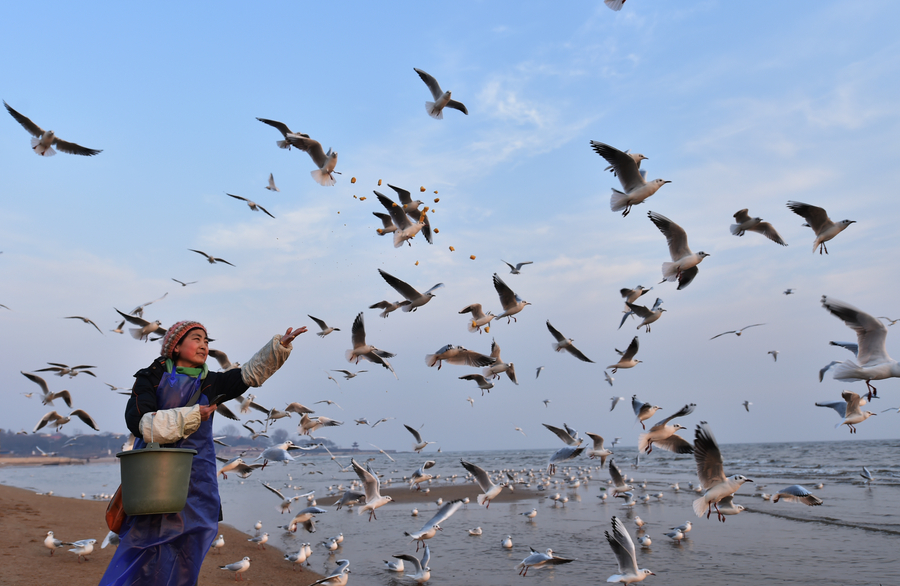 Chang Ying feeds seagulls at the seaside in Qinhuangdao, North China's Hebei province on Feb 14, 2017. [Photo/VCG]
Chang Ying started feeding seagulls voluntarily three months ago after finding some birds starved on the beachside. She now spends six hours to prepare about 50 kilograms of home-made corn cake to take to the beach every day. The 55-year-old retired music teacher has spent about 8,000 yuan ($1,159) on the ingredients over the past three months. Her efforts have earnt her the nickname of "seagull mother".
Neighbors and friends have started to join Chang, and other locals, who heard about Chang's kindness, have sent her hundreds of kilos of core flours.
Chang is wondering whether she should keep on feeding the seagulls as the weather turns warm, and whether corncake is enough to keep seagulls healthy.
She is looking forward to getting some professional guidance and hopes citizens and tourists will care more about seagulls.