An urban management official, or chengguan, has one of the least rewarding jobs in China. The municipal employees are tasked with enforcing city rules such as bans on hawking or begging.
Frequent incidents of "excessive" and arbitrary violence against often poverty-stricken street vendors and migrant workers have given chengguan an image as heartless, corrupt enforcers.
In a move to strengthen mutual understanding, a chengguan and a hawker in Luoyang city of Henan province swapped roles for a day on June 8, Henan-based Dahe Daily reported.
At 10 pm on Sunday, when his day's work finished, fruit vendor Ma Yonghui was exhausted.
He was annoyed that some vendors kept returning to the same spots, usually busy traffic intersections, after he had ordered them to leave. He said it saddened him when hawkers showed distain toward him, worse even than ridiculing him.
Ma came up with some tips for chengguan after the day's work, saying never interrupt a vendor with customers who could be put off, and never try to collect the tools of the vendor's trade. Letting them do the packing up is a good way to avoid potential violence.
While Li Gaopan, a chengguan who played the vendor, said he now recognized the need to sell fruit as quickly as possible as it soon went off. The neighborhood he was at has no supermarkets or traditional market, but residents still have the demand for fruit and the vendor's service is needed.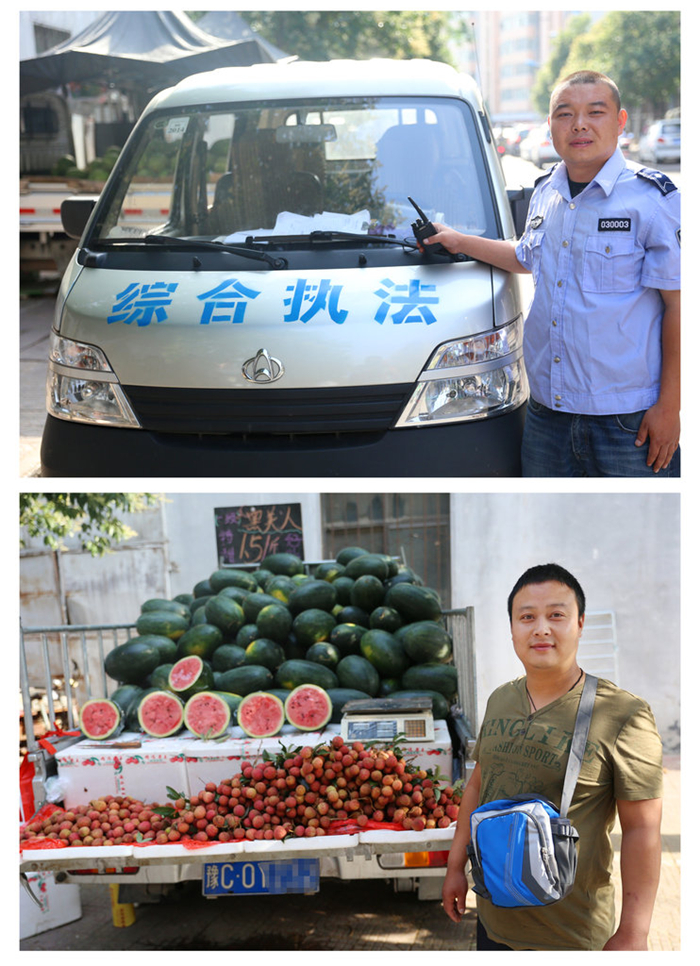 Street vendor Ma Yonghui, top and Li Gaopan, above, an urban management official swap roles on June 8 in an effort to understand each others' daily working conditions. [Photo/CFP]