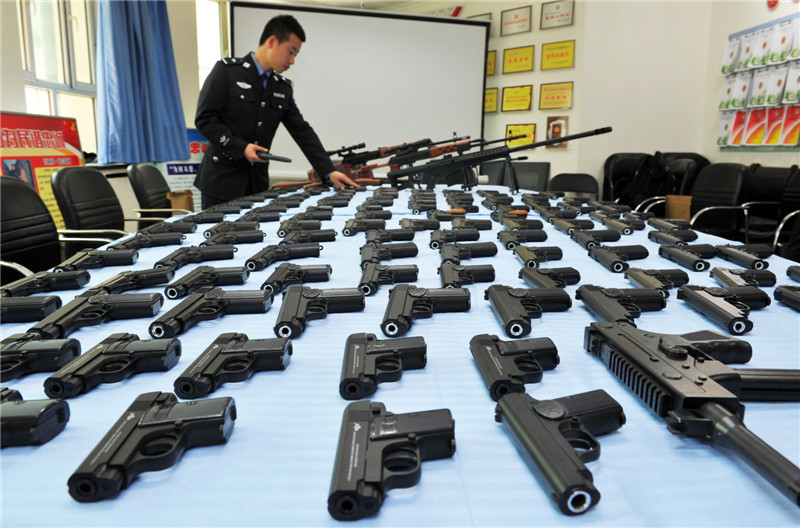 A police officer from the public security bureau of Saybagh district in Urumqi, Xinjiang Uygur autonomous region, displays the replica firearms on Monday that were recently seized from a toy wholesaler. [Photo by Chen Feng/Asianewsphoto]
URUMQI - Police authorities in Urumqi, capital of northwest China's Xinjiang Uygur autonomous region, have seized more than 400 imitation guns and 230,000 bullets.
Tang Liang, a spokesman with the Sayibak district bureau of public security in Urumqi, on Tuesday revealed the seizure was made in a bust after a campaign against guns and explosives was launched on April 10.
Police seized 46 replica guns and 230,000 bullets from a store at a wholesale market for toys and then seized more than 350 guns from the store's warehouse.
The store owner, surnamed Song, has been detained suspected of illegal trading in firearms.
The imitation guns, sold at prices ranging from 200 yuan to 3,000 yuan ($480), can be loaded with bullets and look like real guns, Tang said.
Of the total, more than 100 replica guns were classified as guns as they could cause a lot of damage, the police officer said.
If the guns had been sold, they could have posed risks, he said.
The case is under further investigation.