$4.16 trillion in merchandise trade pushes nation ahead of US
China replaced the United States to become the world's largest merchandise trader in 2013, a milestone in the country's decades-long trade expansion path, the Ministry of Commerce said on Saturday.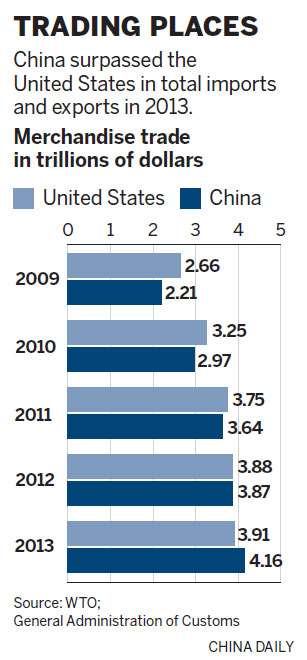 "According to the preliminary statistics of the World Trade Organization Secretariat, China was the leading merchandise trader in 2013. China's merchandise trade totaled $4.16 trillion in 2013 with exports reaching $2.21 trillion and imports of $1.95 trillion," the ministry said in a statement on its website.
The statistics matched the figures released by China's General Administration of Customs on Jan 10.
Data from the US Commerce Department showed on Feb 6 that the US' combined exports and imports stood at $3.91 trillion in 2013, about $250 billion less than China's.
In 2012, the US was still the world's biggest trader in merchandise, with imports and exports totaling more than $3.88 trillion. China closely followed, with merchandise trade totaling almost $3.87 trillion in 2012, according to the WTO.
In 2009, China became the world's largest exporter and second-largest importer.
"As a developing country, China's achievement of becoming the world's leading goods trader marks the country's new milestone in the path of developing foreign trade and is also a great fruit of its pursuit of reforms and opening-up as well as engagement in globalization," Commerce Ministry spokesman Yao Jian said in a statement on the ministry's website on Saturday.
China's foreign trade developed by strides in the past three decades, especially after its accession into the WTO in 2001. Trade expansion forcefully supported the growth of the world's second largest economy but also contributed to global economic development.
"China is now the largest trade partner of more than 120 countries and regions. Its annual imports in merchandise reached about $2 trillion and created lots of jobs and investment opportunities for its partners," Yao said.
Long Guoqiang, a researcher at the Development Research Center of the State Council, said that China's achievement as the world's leading trader in merchandise "is surely worth great compliment".
China's policies to encourage trade in the past decades, as well as its initiative to combine foreign investors' capital, technology, channel and brand advantages with its own strength in cheap land, labor and infrastructure facilities, forged the country's global competitiveness in labor-intensive exports. Meanwhile, China's established enterprises are actively using global resources through investment abroad, and boosting the country's manufacturing competitiveness, Long said.
"The role as the world's leading goods trader could serve as the foundation for China to develop into a stronger goods trader, but there is a long way to go. The value added in Chinese exports is relatively low; Chinese exporters' own brands are not enough; sales networks are not well established; the quality of some exports is not very good; and businesses should further improve their capabilities of using resources in both domestic and international markets," said Yao, the Commerce Ministry spokesman.
He added that China is confronted with different circumstances and new challenges and it is necessary to forge new advantages in engaging economic globalization through improving the country's trade growth pattern and structures.
Wang Guiqing, vice-president of the China Chamber of Commerce for Import and Export of Machinery and Electronic Products, said that double-digit export growth of machinery and electronic exports has probably ended, and China has to accept an annual growth of 7 or 8 percent.
"Robust demand in traditional markets is losing steam. Overseas enterprises are reluctant to move business operations into China while costs keep rising here," Wang said. "We are a big exporter of machinery and electronic products, but not a strong one. We have to make efforts on research and development, market expansion, and brand building. Otherwise, it will be hard for us to secure the current share in the global market."