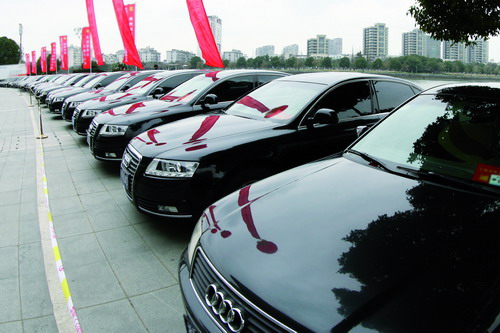 Official cars at a government office in Zhejiang province are all foreign-brand vehicles. The central government plans to restrict the purchase of official vehicles to domestic brands. Zhang Heping / For China Daily
BEIJING -- In the latest move in China's anti-waste campaign, central authorities on Monday issued a written regulation to standardize fund management and ban Party and government extravagance.
The regulation, which contains 65 items and 12 chapters, outlined the proper management of funds for various uses, including official travel, receptions, meetings, official vehicles and buildings.
It is meant to guide the Party and government organs in practicing frugality and rejecting extravagance, and is an important move in the spirit of the recently-concluded Third Plenary Session of the 18th CPC Central Committee, according to a statement issued by the Communist Party of China (CPC) Central Committee and the State Council, China's Cabinet.
According to the regulation, China will implement "market-oriented" official car reform. The country will cancel official cars for general use and will only keep "necessary" official vehicles for law enforcement, confidential communications, emergency services, special and technical needs, and other uses under the stipulation.
General official travel will be carried out through public transportation, and officials may receive transportation subsidies, the regulation said.
Party and government institutions must insist on frugality and strictly control spending on official affairs, it said.
Institutions have also been ordered to be transparent in their spending and publicize in detail their use of funds, assets and public resources, except in cases that involve national secrets.
China's anti-waste battle has been gathering steam since last December, when the new leadership pledged eight measures to improve Party work style and reject extravagance and bureaucracy in a bid to win the trust and support of the people.
In June, China's leaders launched a one-year "mass-line" campaign to boost ties between CPC members and the people, while cleaning up undesirable work styles such as formalism, bureaucracy, hedonism and extravagance.
However, Monday's regulation is the first time the rules were issued as a legal document in order to rein in power and kill extravagance at its root.
The regulation emphasizes that public offices must first work out an annual budget before spending. Spending before budgeting and overspending are strictly prohibited.
Government buildings, which have received public criticism for their luxury and magnificence, cannot be built as city landmarks, according to a chapter in the regulation. Other facilities on building compounds, such as large squares and parks, are also on the ban list.
Official buildings that violate the regulation could face confiscation or auction.
The regulation also prohibits officials from using public funds to travel abroad in the name of official business.
The regulation urges authorities to establish supervision and accountability systems, and leaders at various levels will be held responsible for violation of the regulation.