WASHINGTON: China's 4-trillion-yuan ($585 billion) stimulus package will help lift its economy in the wake of the global financial crisis, a senior World Bank official said on Wednesday, ahead of the opening session of the National People's Congress.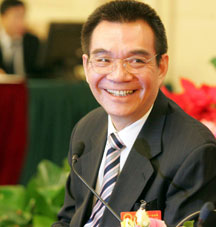 Justin Lin
"I am confident that the Chinese government's stimulus package will lift its economy out of the crisis," said Justin Lin, the chief economist of the World Bank
China is in a much better situation than other countries, said Lin, who is also the senior vice-president at Johns Hopkins School of Advanced International Studies.
The country's stimulus plan includes investment in railways, rural areas, sewage treatment, water supply facilities, urban infrastructure and the energy sector.
During the Asian financial crisis in 1997, China, for the first time, adopted a stimulus package, investing heavily in building a highway network, one of the country's major bottlenecks.
As a result, the country's highways increased in size by more than five times between 1980 and 2002.
"China is in a lucky position as it has accumulated a large pool of foreign reserves. The government has a lot of savings," Lin said, adding: "China has fiscal space."
China's economy has kept growing at an average rate of 9.8 percent over the past 30 years.
The World Bank official suggested China opens more local banks, with good supervision, to offer more people, farmers in particular, financial services.
Moreover, sectors such as telecommunication and banking, which the monopoly policy favors, should be placed competitively, he said.
The government needs to support small- and medium-sized township enterprises to create more jobs, Lin said.
Lin was optimistic about China maintaining its economic growth at a 7-to-8-percent rate. China should grab the opportunities to make its stimulus package effective and make a successful transition from a planned economy to a market-oriented one, Lin said.
"The economic relations between China and the United States are a win-win situation for both sides. We have no time to point fingers at each other and have to work together for solutions," he said.
"As the world deals with the economic crisis, China's role should be regarded as crucial," he said.
Lin added that countries were paying "little attention to the root of the financial crisis, instead were only focusing on the tip of the iceberg".