BEIJING -- Heavy snow has killed 24 people in China since January 10, the Ministry of Civil Affairs said here on Monday.
More than 77.86 million people had been affected by the snow in 14 provinces, including Anhui, Jiangxi, Hubei and Hunan by 2 p.m. Monday, according to the ministry.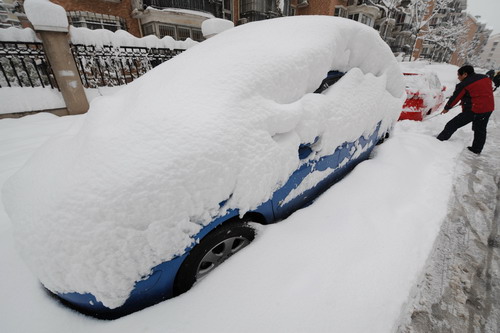 A man clears snow from a car in Nanjing, East China's Jiangsu Province, January 28, 2008, after the city was hit by the heaviest snowfall since 1961. Wild winter weather across China crippled energy and transport, and caused roughly 3 billion US dollars of economic loss. [Xinhua]
Among the deaths, 10 were killed in collapses of homes weighed down by the snow and another 10 died after falling on slippery roads. Two people drowned and two were hit by falling trees laden with heavy snow.
The snow has affected more than 4.2 million hectares of farmland, led to the collapse of about 107,000 houses and damaged 399,000 other homes.
Direct economic losses are estimated at 22.09 billion yuan (about 3 billion US dollars).
According to reports from local civil affairs departments, snow is still falling in some southern provinces, such as Hunan and Hubei, while some areas in Guizhou, Anhui and Jiangxi provinces and Guangxi Zhuang Autonomous Region are getting icy rain.
On Monday, flights in at least 10 cities including Wuhan, Nanjing, Changsha and Changzhou were halted temporarily due to bad weather.
Four expressways in Shanghai have been closed indefinitely by snow.
By 4 p.m. Sunday, the snow had affected 5.97 million citizens and 3.93 million mu (some 648,500 ha.) of farmland in Anhui Province, made 24,000 people homeless, collapsed 12,800 houses and damaged 49,600 others, causing a direct economic loss of 1.6 billion yuan.
Governments at all levels have extended logistic and financial support.
Working around the clock, the Ministry of Civil Affairs launched five times the VI emergency disaster response from January 21 to 27.
On January 22, the ministry also provided financial aid of 1.75 billion yuan, jointly with the Ministry of Finance, for hard-hit areas, of which 14 million yuan was given to Hubei and Hunan provinces, which have been seriously affected.
In Hunan Province, civil affairs departments handed out more than 32.4 million yuan, as well as 78,000 quilts, 620,000 items of clothing, 780 tons of rice and 10 tons of cooking oil to the needy people.