BEIJING -- Chinese share prices closed about seven percent lower on Monday, as investors dumped stocks after Friday's sell-off on Wall Street amid lingering fear of a US recession.
On Friday, the Dow Jones Industrial Average fell 1.38 percent to 12,207.17, ending a two-day rally boosted by the US Federal Reserve's emergency federal funds rate cut of 0.75 percentage points.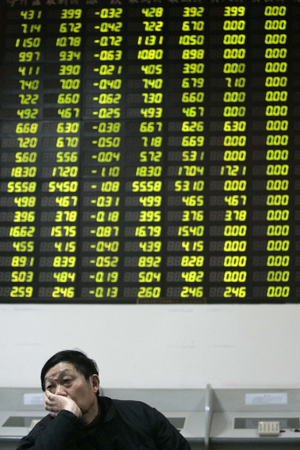 An investor reacts in front of an electronic stock information board at a brokerage house in Shanghai, January 28, 2008. China's main stock index plunged 7.19 percent on Monday, its fourth biggest drop this decade, because of sliding global markets and heavy snow across central and eastern China, which is disrupting food and energy supplies. [Agencies]
The benchmark Shanghai Composite Index, which covers both A and B shares, plunged 342.39 points, or 7.19 percent, to 4,419.29 on Monday. The fall neared last Tuesday's 7.22 percent drop, the highest percentage points loss in 7.5 months.
The Shenzhen Component Index sunk 1,116.18 points, or 6.45 percent, to 16,177.83.
Losses led gains by 799 to 44 in Shanghai and 627 to 31 in Shenzhen. Aggregate turnover shrank to 167.2 billion yuan (23.2 billion US dollars) from 199.9 billion yuan on Friday.
A Bohai Investment analyst said the once isolated domestic market was now more influenced by other world markets. He added there was little buying interests as investors expected the US subprime mortgage crisis wouldn't be tackled in a short time.
Other Asian markets also tumbled. Tokyo's Nikkei 225 Index fell 3.97 percent to 13,087.91 and Hong Kong's Hang Seng Index dropped 4.25 percent to 24,053.61.
Some jittery investors reduced holdings for safety and some locked in profits after the short-lived rebound late last week, according to Guangfa Huafu Securities.
Power and transport stocks led the plunge on Monday as a heavy snow caused blackouts and transport chaos in southern and eastern China.
Leshan Electric Power plunged by the 10 percent daily limit to 12.41 yuan and Huadian Power International shed 9.52 percent to 7.32 yuan.
Fujian Expressway Development fell by the daily limit to 9.79 yuan. Leading airlines China Southern was down 9.99 percent to 20.99 yuan and Air China dropped 9.98 percent to 21.73 yuan.
Blue chips were also heavy losers.
PetroChina, which accounts for about a quarter of the Shanghai Composite Index, lost 8.11 percent to 24.02, its lowest closing since recording a high of 48.62 yuan on its debut on November 5. China Petroleum and Chemical Corp. (Sinopec) dropped 9.98 percent to 17.05 yuan.
Major lenders Industrial and Commercial Bank of China fell 6.23 percent to 6.62 yuan and Bank of China fell 6.87 percent to 5.56 yuan.
China Life and Ping An Insurance, the nation's two biggest life insurers, and Citic Securities, the nation's No. 1 listed brokerage, all fell by the daily limit.
Baoshan Iron and Steel, the country's largest steel producer, slid 6.59 percent to 15 yuan and China Vanke, the country's largest listed property developer, tumbled 5.37 percent to 25.55 yuan.