The China Meteorological Administration (CMA) early Monday issued a red alert for severe snowstorms forecast for central and eastern China.
Heavy snow is set to blanket northern Hunan, eastern Hubei, southeastern Henan, northwestern Zhejiang as well as most areas of Anhui and Jiangsu provinces on Monday, while some of these areas will expect snowstorms, according to the CMA.
Meanwhile, freezing rain will pound some parts of Guizhou, Hunan, Jiangxi, Guangxi, Anhui and Zhejiang.
The CMA warned local governments and departments to prepare for the coming bad weather, and transportation, railway, electricity and communication departments were advised to prepare post-snow clean-ups.
CMA also suggested that citizens in these areas should reduce their unnecessary outdoor activities.
The CMA's weather warnings fall into four levels in accordance with their severity and status of emergency, with red being the most severe.
The snow, the worst in a decade in many places, has hit most of China since January 12, leaving homes collapsed, power blackouts, highways closed and crops destroyed.
Heavy snow piles on the agony
Large tracts of the country have been battling transport havoc caused by heavy snowfall, as forecasters on Sunday issued a red alert - the highest on a scale of five - warning of more snow and sleet in the coming days.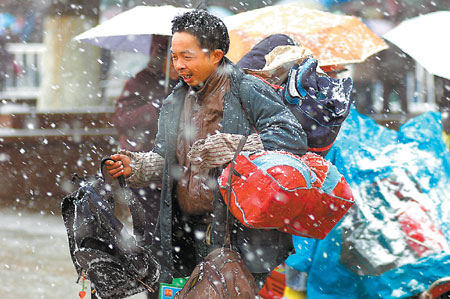 A migrant worker braves snowfall at Wuxi railway station in Jiangsu Province on Sunday January 27, 2008. [China Daily]
The snow, the most in 50 years in many areas, has been sweeping the central, eastern and southwestern parts of the country in recent days, paralyzing air, rail and highway traffic and stranding tens of thousands of passengers amid a pre-holiday travel peak.
Almost 150,000 passengers were stuck at Guangzhou railway station by Saturday night after a power failure caused by snow, ice and sleet stopped more than 136 electric trains in Hunan province on the trunk line between Beijing and Guangzhou.
Related readings:


 Chinese make 53m bus trips on 1st day of Spring Festival travel


 Heavy snow chokes transport before Spring Festival


 Vice premier stresses safe transport during Spring Festival


 China to see 22m travel by air during Spring Festival


 178.6m to travel by train during Spring Festival
Though the power supply resumed at 4 pm on Saturday, 50 trains remain stranded between Hengyang in Hunan and Guangzhou.
A Guangzhou railway official warned yesterday that the number of stranded passengers in Guangzhou could hit 600,000 today.
"Last night, 100,000 passengers packed the square in front of the railway station; another 50,000 found shelter inside the building or under nearby flyovers," said an official in Guangzhou.
In cold and drizzly weather, Chen Zhenyu had spent more than 12 hours on the railway station square before she could board her train home last night.
"I dared not sleep because I did not know when my train would leave," the migrant worker from Hubei province told China Daily before she boarded the train more than 10 hours behind schedule.
"But I feel lucky because I can finally board the train to go home to spend the Lunar New Year with my family," said the woman in her 20s.
She said some of her coworkers, after waiting a dozen hours, had returned to their factories because they did not know when their trains would depart.
The Ministry of Railways has dispatched about 100 diesel locomotives to move the electric trains and ordered 63 trains to bypass the non-operational section and take different routes via the Beijing-Kowloon line or the Shanghai-Kunming line.
The ministry also sent 35 trains from Beijing, Wuhan and Nanchang to help the stranded passengers.
Road traffic between Hunan and Guangdong provinces has also ground to a halt. Traffic was at a standstill yesterday on the southern section of the expressway linking Beijing with Zhuhai in Guangdong, where 60,000 people were stuck in 20,000 vehicles.
Several regional airports were shut by the weather, including the one at Nanjing, capital of Jiangsu province.
Hunan's Huanghua Airport has been closed since Friday in the worst cold snap in a decade
Snow has affected the lives of 25.22 million people across the province, killing seven, including three power company workers who died while removing ice from a 50-meter tall tower that collapsed on Saturday afternoon.