PARIS - Societe Generale said Sunday that a trader who evaded all its controls to bet $73.5 billion - more than the French bank's market worth on European markets hacked computers and "combined several fraudulent methods" to cover his tracks, causing billions in losses.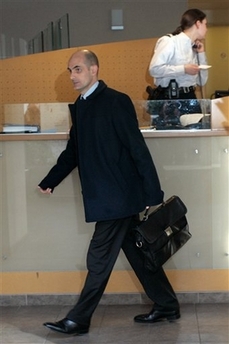 The head of the financial section of the Paris prosecutor's office, Jean-Michel Aldebert, foreground, arrives at the Financial Police headquarters, Sunday, Jan. 27, 2008 in Paris. Aldebert said Sunday the questioning of Jerome Kerviel, a trader implicated in a massive bank fraud case, was proving 'extremely fruitful'. [Agencies] 
The bank says the trader, Jerome Kerviel, did not appear to have profited personally from the transactions and seemingly worked alone - a version reiterated Sunday by Jean-Pierre Mustier, chief executive of the bank's corporate and investment banking arm.
But, in a conference call with reporters, Mustier added: "I cannot guarantee to you 100 percent that there was no complicity."
Kerviel's lawyer said the accusations of wrongdoing against his client were being used to hide bad investments by the bank related to subprime mortgages in the United States.
"He didn't steal anything, take anything, he didn't take any profit for himself," the lawyer, Christian Charriere-Bournazel, told The Associated Press by telephone. "The suspicion on Kerviel allows the considerable losses that the bank made on subprimes to be hidden."
Officials said Kerviel was cooperating with police, who held him for a second day of questioning Sunday, seeking answers to what, if confirmed, would be the biggest-ever trading fraud by a single person.
The questioning was "going very well and the investigation led by the specialists of the financial police is extremely fruitful," said Jean-Michel Aldebert, head of the financial section of the Paris prosecutor's office.
Kerviel was giving "very interesting" explanations, Aldebert added. "From what he told me, he was fine psychologically." He refused to say whether Kerviel might face preliminary charges.
Kerviel, 31, has not been seen in public since the bank's bombshell revelation Thursday that his unauthorized trades resulted in 4.9 billion euros ($7.1 billion) in losses.
Even before his massive alleged fraud came to light, Kerviel had apparently triggered occasional alarms at Societe Generale - France's second-largest bank with his trading, but not to a degree that led managers to investigate further.
"Our controls basically identified from time to time problems with this trader's portfolio," Mustier said.
But Kerviel explained away the red flags as trading mistakes, Mustier added.
"The trade was canceled, there was no specific follow-up to do," he said. "From our understanding today, the number of mistakes was not higher than (for) any other trader, so from our understanding that was not a reason to ring a bell."
Kerviel's lawyer said the trader made money for the bank through 2007 and has since been "thrown to the wolves of public opinion."