BEIJING - Premier Wen Jiabao has urged all departments concerned to ensure a safe and smooth transportation during the traditional Chinese New Year holidays so that the people would enjoy a happy, peaceful and harmonious festival season.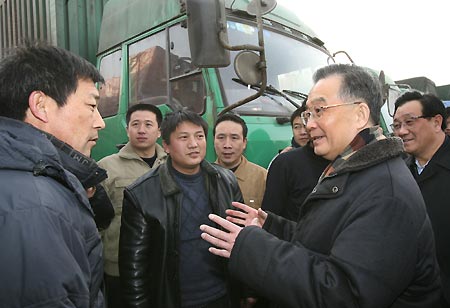 Chinese Premier Wen Jiabao(R) talks with a truck driver at the Zhuozhou service station of the Beijing-Shijiazhuang Expressway, in north China's Hebei Province, Jan. 25, 2008. Wen Jiabao inspected the Zhuozhou Service Station of the Beijing-Shijiazhuang expressway and Beijing's West Railway Station on Friday. [Xinhua]
Wen visited a service zone of an expressway and a railway station in Beijing on Friday and inspected the traffic situation before and during the Spring Festival holidays, the busiest travel season in the country.
Related readings:


 Chinese make 53m bus trips on 1st day of Spring Festival travel

 Heavy snow chokes transport before Spring Festival


 Vice premier stresses safe transport during Spring Festival


 China to see 22m travel by air during Spring Festival


 178.6m to travel by train during Spring Festival
The Spring Festival traffic season is 20 days ahead and 20 days after the Chinese Lunar New Year, which falls on February 7 this year. All kinds of traffic tools will be busy with shipping homebound passengers and food and major industrial goods like coal used for power plants.
Since January 12, rare snowfalls, the heaviest in decades for some central and southern provinces have further worsened the traffic tension in the country. Many expressways and airports have been closed, forcing many passengers to choose railways as their option.
During his visits, Wen had talks with some truck drivers, passengers and staff of the Zhuozhou Service Zone of the Beijing-Shijiazhuang Expressway, 60 kilometers southwest of the national capital, and the Beijing West Railway Station, one of the most bustling traffic hubs in the country.
The premier, who is also member of the Standing Committee of the Communist Party of China (CPC) Central Committee Political Bureau, thanked the drivers and highway and railway workers for their hard work during the season.
The State Council has decided to exempt all the tolls for vegetable-loading trucks when they go by the "Green Channel" highways linking to major cities, to curb market fluctuation, he said.