Fourth World Internet Conference to further open up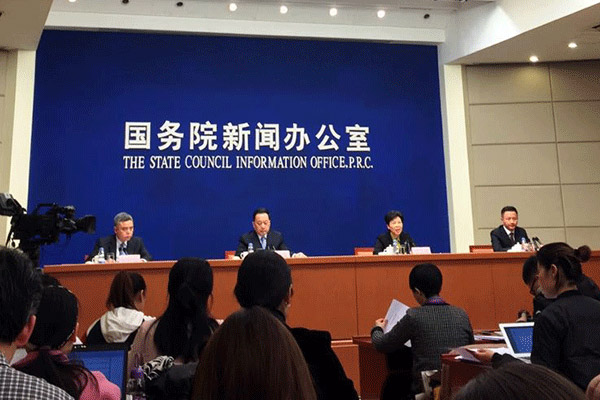 The news conference on the fourth World Internet Conference scheduled from Dec 3 to 5 in Wuzhen, East China's Zhejiang province, is held in Beijing, Nov 16, 2017. [Photo by Tan Xinyu/chinadaily.com.cn]
China continues to open up to the world, including in areas such as the internet, Ren Xianliang, deputy director of the Cyberspace Administration of China, said at a news conference Thursday.
"China always welcomes internet companies around the world, which is based on the premise that the latter should comply with Chinese laws."
Ren made these remarks while talking about internet business representatives from home-grown companies, such as Alibaba, Baidu and Tencent, and foreign giants, like Cisco, Microsoft and Facebook, having confirmed their attendance to the fourth World Internet Conference scheduled from Dec 3 to 5 in the canal-lined town of Wuzhen, East China's Zhejiang province.
The conference has been an annual event organized by the Cyberspace Administration of China and the government of Zhejiang province since 2014, when the inaugural World Internet Conference was held.
In addition, according to Ren, the upcoming conference will also include 32 international organizations and other domestic entities as organizers of sub-forums. Meanwhile, 26 institutes, universities and enterprises will participate in the conference as co-organizers.
For the first time, the conference will release two blue books -- China Internet Development Report 2017 and World Internet Development Report 2017 – to explain the current situation and development trends for the internet in China and also reveal the features and levels of internet development in different countries.
With the theme of "Developing Digital Economy for Openness and Shared Benefits — Building a Cyberspace Community of a Common Future", this year's conference will highlight discussions and dialogues on the digital economy, cutting-edge technologies and inclusive and sharing development.
Up to now, 1,500 guests from five continents have been invited, including heads of international organizations, internet business leaders, internet celebrities, experts and scholars.
In addition, the latest products, technologies and brands will be showcased in the Light of the Internet Exposition, a part of the conference that will take place from Dec 2 to 6. During this exposition, discussions on project cooperation will be carried out, along with the release of new products and technologies.
As the permanent host of the annual World Internet Conference, Wuzhen has many waterways and more than 80 stone bridges, representing the internet spirit of connectivity. The city has also witnessed the internet industry being a force to drive the local economy.
The ancient water town boasts 148 internet companies registered there as of September this year, with a total registered capital of 4.04 billion yuan ($608 million), according to the conference's website.