JD develops automatic delivery vans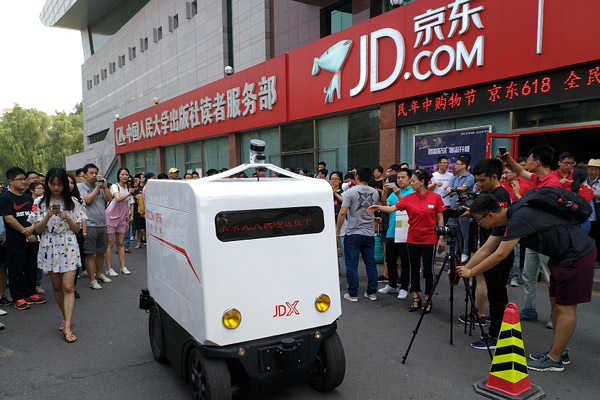 JD's unmanned small-sized vehicle is pictured on June 18, 2017. [Photo provided to chinadaily.com.cn]
JD.com Inc, China's second-largest e-commerce player, on Thursday announced partnerships with Chinese auto makers SAIC Maxus and Dongfeng Motor Corporation to conduct research on the country's first automatic vans.
The e-commerce giant has jointly developed two models of automatic light electric vans with SAIC Maxus and Dongfeng respectively, for the delivery of goods from JD's distribution centers to delivery stations, JD said in a statement.
SAIC Maxus' electric van can sense obstacles 150 meters away and plan its route leveraging its radar system, sensors and positioning system. To date the van has conducted successful tests of automatic route planning, overtaking, obstacle avoidance and self-parking functions, according to JD.
The partners will carry out all-round cooperation to promote the development of automatic vehicles and related technologies, and improve the construction of an intelligent logistics system.
Automatic vans are the latest addition to JD's automated vehicle family. The company is increasingly betting on its intelligent logistics operations to differentiate itself from Alibaba Group Holding Ltd.
JD began developing its automatic delivery vehicles last year, aiming to employ unmanned delivery vehicles to conduct bulk deliveries to office buildings and residential areas in cities to enhance delivery efficiency.
Last year, it successfully used drones to deliver online purchases to rural shoppers in Jiangsu province. Moreover, robots and driverless cars for deliveries were used during the June 18 shopping festival this year.
Wang Zhenhui, CEO of JD Logistics, said: "Working with partners, we will continue to enhance our smart logistics and push the bounds of our traditional logistics solutions."
"The automatic vans used for delivering goods are still in the phase of R&D, and we still need a long time to see its large-scale commercial application as the automatic vehicles must undergo multiple tests and obtain a license before they are introduced on roads," said Lu Zhenwang, CEO of Shanghai-based Wanqing Consultancy.
Lu said JD has taken the lead in the domestic intelligent logistics sector and has invested hugely in related intelligent equipment, such as unmanned sorting and handling equipment, drones and driverless deliveries.
"Of course, the application of automatic vans could enhance the efficiency of delivery and reduce costs," he said.
JD currently operates China's largest nationwide delivery network and is able to provide same-or next-day delivery to a population of over a billion. Its logistics innovation lab is also researching other advanced automation technologies such as automated warehouses to enhance the user experience.