DJI unveils new series of Matrice drones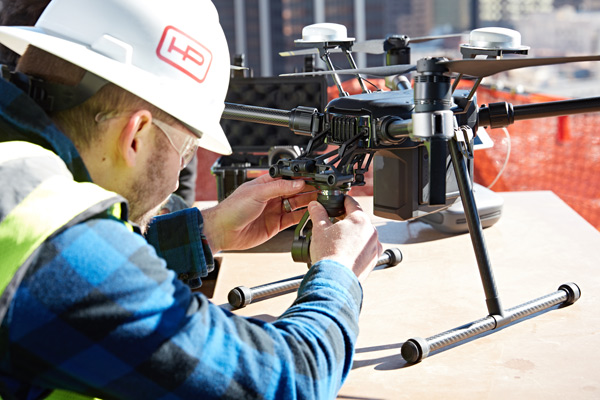 A man adjusts lenses of a Matrice 200 drone. PROVIDED TO CHINA DAILY
DJI Innovation Technology Co, China's largest commercial drone manufacturer, has unveiled the Matrice 200 drone series or M200, designed for professional use, such as aerial inspections and data collection from offshore oil rigs, wind turbines, power lines, telecommunications towers and bridges.
The M200 series' folding body is easy to carry and set up, with a weather and water-resistant body. It is equipped with more than 20 internal sensors and is compatible with DJI's high-powered cameras for imaging, with wide industry applications, including infrastructure inspection, energy facility inspection, construction site mapping and public safety.
"Drones have quickly become a standard part of the enterprise toolkit for sophisticated tasks such as bridge inspections, land surveying and search-and-rescue missions," said Paul Guo, director of Enterprise Solutions at DJI.
With the stable and weather-resistant M200 platform, the extensive power line networks can be visualized in detail, and vertical infrastructure such as wind turbines and offshore oil rigs, can be inspected from all angles, according to DJI.
The M200 also gives construction site managers an efficient tool to review progress and workflow, ensuring more efficient use of resources. It could identify faults in buildings, roads and bridges in real time, making those operations more safe, efficient and effective.
The market for China's civil drone industry is expected to reach 11.1 billion yuan ($1.6 billion) next year, according to a report by Beijing-based consultancy Analysys.
Apart from the consumer-level drones, which are mainly used in aerial photography, demand for industry-level drones is large in China, with wider applications such as farming, construction, security and disaster relief.
Shenzhen-based DJI, which currently accounts for 70 percent of the global consumer drone market, is devoting a great deal of attention to industry-level drones.
In November 2015, DJI launched its first agricultural drone, the MG-1, marking its diversification into the industry-level drone market.
However, the safety of industry-level drone remains a concern. Media reports say that terrorist group ISIS is using DJI phantom drones for reconnaissance purposes and bombings.
DJI responded that DJI's products are purpose-built for civilian use and its functions are based on aerial photography, inspection and mapping. At present, DJI has established electric fence system in some part of regions to reduce the possibility of the abuse of technology.
"Applications in industry are beneficial for DJI to improve its technology, and its success in consumer drone market will help DJI to further widen its industrial application fields," said Pan Xuefei, a senior analyst at market research firm IDC.