HTC launches VR cloud data service for tourism sector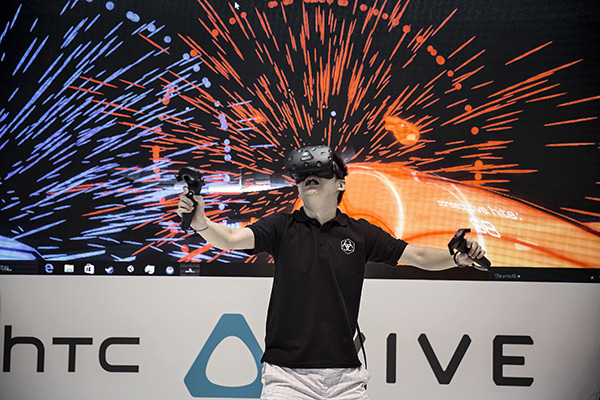 An attendee tries out a virtual reality game on HTC Corp's Vive headset at the 2016 Mobile World Congress Shanghai. [Photo/VCG]
Vive, the VR branch of the Taiwan-based smartphone company HTC, unveiled a virtual reality tourism cloud data service platform on Wednesday, dedicated to providing VR-related applications and cloud services for travel agencies in China.
The service platform, a joint effort between HTC Vive, China National Tourism Administration (CNTA) and Renwoyou (Xiamen) Technology Development Co Ltd, is set to be launched in more than 200,000 travel agencies in the future. It will offer VR-enabled experiences, electronic visa application, foreign exchange and other services.
CNTA said at a news conference in December 2016 that China had become the world's largest outbound tourism market. The data shows that in 2015, China's total tourism revenue reached 4.13 trillion yuan, and tourists took 4 billion domestic trips, along with 117 million trips abroad.
"As China becomes the world's largest tourism market, we need to use new technologies, such as VR, to continuously facilitate tourism marketing strategies and better develop the market." said Xin Hongye, deputy director of the Information Center of CNTA.
To better serve the clients, the platform uses both VR and augmented reality technologies to plan the journey more seamless and interactive. Putting on a Vive headset, users can turn pages of a "book" to view different destinations via HTC's Vivepaper, an app offering interactive VR contents.
Alvin Wang Graylin, China regional president of HTC Vive, said both potential tourists and the tourism industry would benefit from the VR technology.
"Users can view 360-degree videos of different locations around the world, which will help them choose destinations."
He expects that the travel agencies will enjoy 200 to 300 percent growth in sales with the help of new technologies.