Bailian eyes new era in shopping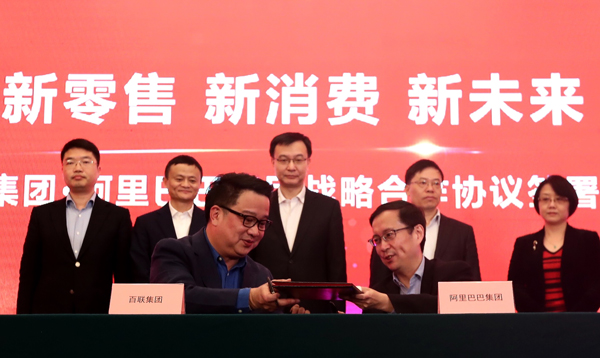 E-commerce giant Alibaba Group and retail conglomerate Bailian Group sign a strategic cooperation agreement in Shanghai, Feb 20, 2017. [Photo provided to China Daily]
Retail hopes that Alibaba tie-up will revive its fortunes
Shanghai retail conglomerate Bailian Group is pinning its hopes on a partnership with e-commerce giant Alibaba Group Holding Ltd to reshape the city's shopping landscape.
Bailian announced on Monday that it had established a strategic partnership with Alibaba to share data and technology, and introduce a new pattern of consumption at the conglomerate's 4,800 bricks-and-mortar stores.
Ye Yongming, chairman of Bailian, the country's leading retailer by revenue, said that once the partnership bears fruit, "convenience stores are likely to offer some of the greatest potential for growth, with double-digit growth rates".
Latest statistics showed that during the first half of 2016, the group had 25.1 billion yuan ($3.65 billion) in sales, down by 2.58 percent year-on-year.
On Monday, Bailian's shares soared by 10 percent to close at 17.82 yuan.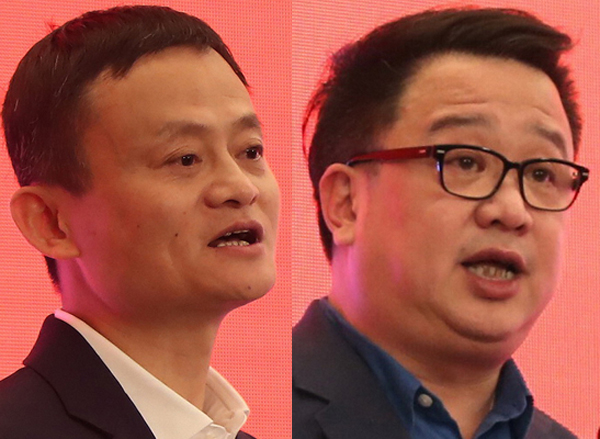 A photo combination of Jack Ma (left), chairman of Alibaba Group Holding Ltd, and Ye Yongming (right), chairman of Bailian Group [Photo provided to China Daily]
"We think it's high time to combine online and offline retail to innovate a new pattern of shopping experience that will benefit both consumers and small and medium-sized enterprises, which has always been our objective," said Jack Ma, Alibaba chairman.
As part of the deal, Alibaba and Bailian will co-design physical stores that merge offline and online shopping and services. They will also aim to deliver enhanced customer services through technologies such as geolocation, face recognition and big data-driven sales and customer management systems.
On the payment's front, Alipay, the digital payment app owned by Alibaba affiliate Ant Financial Services Group, will be made available at all Bailian stores, while Bailian's indigenous shopping cards Safepass and OK Card will be integrated with the e-wallet.
Alibaba dubbed the omni-channel model "New Retail", which CEO Daniel Zhang said would not only change the relationship between merchants and customers, but the traditional models of manufacturing and supply chain management.
Alibaba is pushing hard to combine its Tmall and Taobao platforms with bricks-and-mortar stores, most notably last month in its offer to privatize Chinese shopping mall operator Intime Retail Group Co Ltd.