ZTE upbeat about prospects in the US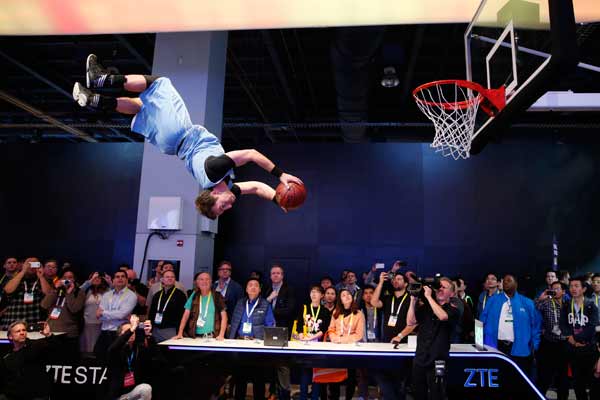 A basketball stunt performer makes a dunk off a trampoline at the ZTE booth during the International CES in Las Vegas. [Photo/Agencies]
With Donald Trump poised to become US president later this month, the head of ZTE Corp's business in the United States is optimistic about his company's ability to grow in the US mobile phone market.
Cheng Lixin, chairman and CEO of ZTE USA Inc, said ZTE intends to enhance its relationship with US partners and anticipates 20 percent growth annually over the next four years.
"In the past four years, we have purchased about $25 billion in goods and licensed technology from US companies, which has generated a lot of jobs in the US," Cheng said in an interview in New York on Monday.
ZTE, a Chinese multinational telecommunications equipment and systems maker based in Shenzhen, Guangdong province, brought its businesses to the US in 1998.
In 2015, ZTE was fourth in US smartphone market share, behind Apple Inc, Samsung Electronics Co Ltd and LG Electronics Inc, according to International Data Corp and Counterpoint Technology Market Research.
While ZTE's rivals such as Huawei Technologies Co Ltd and Xiaomi Corp are expanding into emerging markets such as Brazil and India, ZTE maintains its focus on the US market.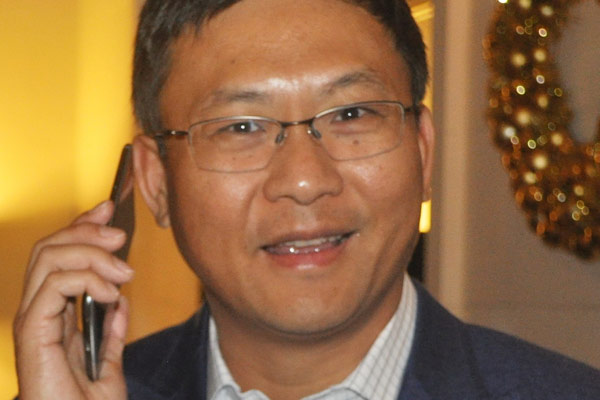 Cheng Lixin, chairman and CEO of ZTE USA Inc.
Cheng said ZTE continues to expand its relationship with carriers in the US market.
Cheng said 2016 was a good year for the company and its flagship smartphone the Axon. "Our market share is about 20 percent in the no-contract space and in overall (phones with an) Android (operating system) we are No 3."
Last year, ZTE launched its smartphone, the six-inch Zmax Pro, in the US. It features a 13-megapixel camera, a fingerprint sensor and sells for $99.
In March, the US Commerce Department placed restrictions on ZTE and three affiliated enterprises for allegedly violating US export controls on Iran. The move required ZTE's suppliers to apply for an export license before shipping any US-made equipment or parts to ZTE.
The sanctions could have hindered the company's ability to procure US components and software. However, two weeks later, the US granted ZTE a temporary reprieve.
"They (sanctions) have been suspended until the end of February (2017)," Cheng said. "We are committed to working with the US government to find a permanent solution as soon as possible. We are doing a lot of compliance improvement."