Bike brand speeds into a new era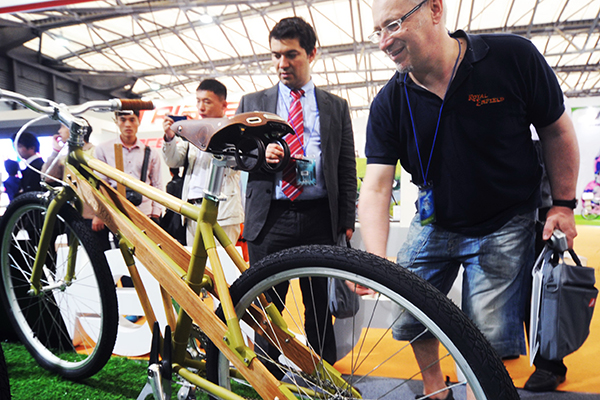 Visitors look at a Forever brand bicycle during an international bike expo in Shanghai. [Photo/China Daily]
Chinese bicycle brand Forever, which has a history of 76 years, has joined the bicycle-sharing scheme in the Internet Plus era by launching cooperation with U-Bicycle.
"Forever bicycles will appear in the U-Bicycle fleet from the first quarter of next year," said Yu Yi, founder and CEO of U-Bicycle.
Compared with its peers' unified color to identify their brands, Forever bikes under the U-Bicycle plan are the green Halley and MARS models for men and the pink MARS for women, Yu said.
"Forever's high quality, sufficient supply, as well as its eight years of experience in running public bicycle rental have laid a solid foundation for the cooperation," said Yu.
Bearing the logo of the Chinese characters Yongjiu (literally meaning forever) in the shape of a man riding a bicycle, Forever-brand bicycles have a history of 76 years, and its products used to be the most sought after means of transport for most Chinese people. But when cars became more and more affordable, the brand was largely forgotten.
As early as 2008, Shanghai-based Forever became the nation's first public bicycle operator. To date, it has about 80,000 bicycles for hire across the city.
But without the backing of modern technology, users have to go through a very complicated process before hiring these bicycles. In the meantime, the bikes have very limited places to park, because they have to be locked at specially designated places.
As a result of the linkup between U-Bicycle and Forever, users only need to scan the QR code and pay a 298 yuan ($42) deposit before unlocking the bikes. Users whose rating by Sesame Credit, an internet credit agency under Alibaba Group Holding Ltd's affiliate Ant Financial Service Group, is above 650 points can use the bikes without paying a deposit.
In spite of the existence of Mobike, ofo bike and Xiaoming Bike on the market, Yu said he believed China's bike-sharing market is far from saturated.
Taking Shanghai as an example, there are between 150,000 and 200,000 such bikes available at the moment, much less than the actual demand of around 1 million, said Yu.
U-Bicycle is scheduled to launch 2.8 million bikes for hire in 52 cities across China next year, with between 100,000 and 200,000 in Shanghai.