LeEco scraps deal for soccer club equity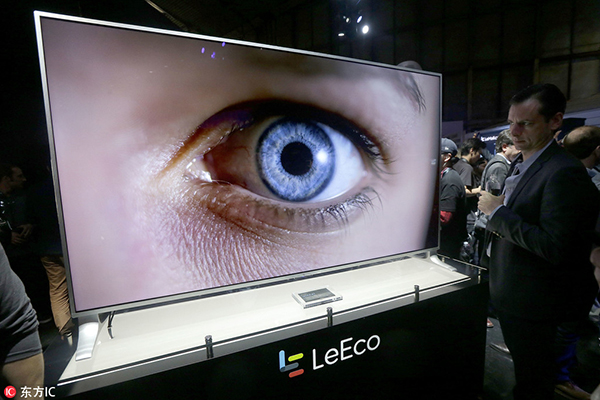 LeEco's new 85 inch television is unveiled at the press event in San Francisco, Oct 19, 2016. [Photo/IC]
Chinese technology major LeEco said on Thursday its sports unit has canceled an investment deal with a major local soccer club, after the two sides failed to reach an agreement on "core issues".
Le Sports said it had paid the sponsorship fees according to the contract, but a disagreement with Beijing Guoan soccer club on "core issues" led to the collapse of an equity partnership between the two sides.
The Beijing-based firm signed a 100-million-yuan ($14.9 million) title sponsorship deal with Beijing Guoan in January. It was also widely reported that LeEco would buy half of the club's ownership for about 2 billion yuan.
Luo Ning, the club's honorary chairman, said in an earlier interview that LeEco failed to pay the money needed to carry on an equity partnership.
The soccer club, the Chinese mainland's first professional one, was now looking for new investors, he had said.
On Wednesday, local tech website 36kr.com cited people familiar with the matter as saying that Ant Financial, the financial affiliate of e-commerce giant Alibaba Group Holding Ltd, would be one of the new investors.
Ant Financial was not immediately available for comment.
Founded in 2004, LeEco started as a video-streaming service provider akin to Netflix Inc, but it rapidly grew into a tech heavyweight with presence in smartphones, TVs and most recently, the sports industry.
Le Sports said in March that it had raised 8 billion yuan from investors, which valued it at 21.5 billion yuan.
Shen Meng, director of Chanson & Co, a boutique investment bank in China, said the scrapping of the deal will have limited impact on LeEco.
"Every one knows LeEco is good at marketing. Though the deal was ended, LeEco has already boosted its brand image and consumers' awareness of its sports arm by associating itself with a major soccer club," Shen said.
LeEco has been working hard to expand its presence in the sports sector, an industry that is receiving policy support from the central government as local audiences pay increasing attention to exercise, fitness and health.