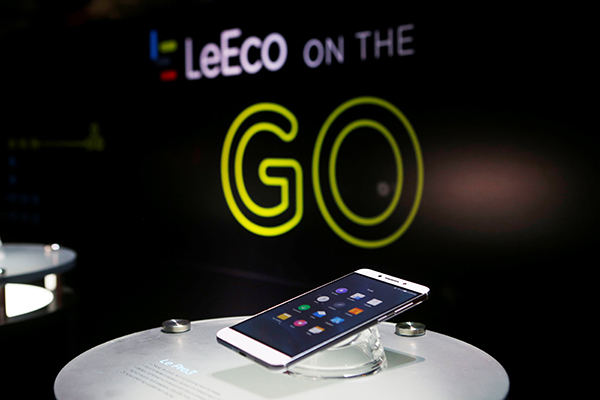 LeEco's new Le Pro3 phone on display at the press event in San Francisco, Oct 19, 2016. [Photo/Agencies]
Positioning itself as a combination of Apple Inc, Amazon.com Inc, Tesla Motors Inc, Netflix Inc and Walt Disney Co, Chinese tech major LeEco officially announced its entry in the United States, trying to win the close combat with local players via its so-called ecosystem model.
At a high-profile event in San Francisco on Wednesday, LeEco launched its ecosystem model in the US, an offering that not only provides video content, but also a wide array of connected smart devices-including smartphones, televisions, smart bikes and electric self-driving vehicles.
"We have created a new business model that will lead the next era of technology-the ecosystem era," Jia Yueting, founder and chief executive officer of LeEco, told the more than 1,000 guests at the event.
"We are disrupting several categories and changing the paradigm by breaking down barriers and boundaries between industries and screens to create a better experience and more value for both individuals and industries," he added.
Headquartered in Beijing, the company sells devices at a next-to-zero margin but derives profits from selling subscriptions to movies and television shows-some of which are produced by LeEco, in addition to offering access to streamed sporting events, digital music and cloud storage.
However, the model's success in the US was questioned by Zhu Dalin, an analyst at Beijing-based consultancy Analysys. "The United States has so many advanced tech players.
"LeEco has provided some appealing video content to TV watchers in China but it doesn't have the leverage to provide content to attract local viewers in the United States," he said, adding that it is also challenging for a Chinese brand to be recognized by Western consumers.
Jia is aware of the challenges. In September, LeEco launched Le Vision Entertainment, which will focus on English language original entertainment content for LeEco's next-generation audiences.
There are some critics in China about LeEco's unrealistic cash-burning expansion into more and more categories, the most recent being self-driving cars, but Jia is a firm believer in the strength of an ecosystem business model.
In a recent interview with China Daily, he admitted that the company's individual business categories can hardly beat their counterparts in the US.