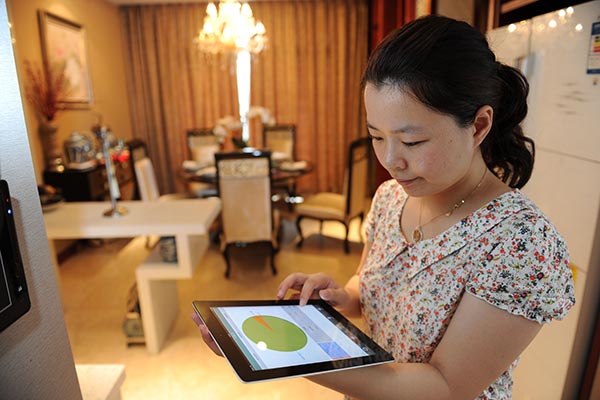 A staff member uses an intelligent home and energy-saving app in a house at Zancheng Intelligent Community in Shaoxing city, Zhejiang province. The network integrates 14 capabilities aimed at making residents' life easier and convenient.[Photo/Xinhua]
Zhang Xueqing, a 32-year-old accountant, has recently been busy redecorating her apartment in Chengdu, while teaching her parents to use the face recognition door control system.
Her residential area in the capital of Sichuan province had some smart devices installed last month, ranging from a gate that recognizes the inhabitants to access control connected with quick-response code via WeChat - the instant messaging application.
"My family and I were surprised when these new technological products were set up at our community, and all can be controlled through one application on my cellphone," Zhang said. "Although I haven't got used to some of the functions, I'm sure they'll make my life more convenient and interesting here."
Like Zhang, an increasing number of Chinese residents are longing for standardized smart community products and a central platform to control the mall.
Most of the smart community devices available on the market, however, could neither interconnect with each other, nor are they compatible with other brands, which has affected the sales of these products.
"I would have installed an electric curtain if it didn't require a remote control," Yang Fan said, citing her concern that she could get confused by having too many remote controls.
For this reason, Chengdu-based Ganide Co Ltd is developing end-to-end solutions for smart communities for China's high-end real estate firms.
"There are quite a few suppliers of smart devices currently. But most of them could not fully meet the clients' demand and only give limited access to other brands' products. That's why business users have to talk with different vendors, and individual consumers couldn't control the devices on one operational platform," said Liu Yeshao, a product manager with Ganide.
The company not only provides a wide range of smart devices for indoor and outdoor use, but has also invented an application for consumers to control the equipment.
A project manager at the property developer located in Chengdu in southwestern China, who declined to be named, said his company was considering purchasing Ganide's products for a newly built apartment complex covering an area of 80,000 square meters, after reviewing the price list.
"We choose Ganide as the supplier because, first of all, it is a State-owned enterprise whose products perform stably in a previous project in which an old residential district of 33,300 square meters was redeveloped in a smart way," he said. "Besides, they provide a wide range of smart devices at a relatively lower price."
Since the beginning of 2015, Ganide began to provide smart community solutions for new apartments constructed by real estate developers such as Vanke Co Ltd, Gemdale Group, while the same time for old residential communities.
For instance, the company tailored the smart community construction plan for Shanghai-based Anting New Town, which was developed by Vanke, and furnished the showroom earlier this year. In mid-September, a smart salesroom of Gemdale Group also opened in Shanghai.
As a unit of the research institute of China Electronics Technology Group Corporation, Ganide takes advantage of the research and technology to link the devices with software platform, and to integrate outdoor and indoor operations in the community.
Ganide's products have also entered the international market in countries such as Myanmar and Indonesia.
The output of Ganide is expected to reach 500 million yuan ($75.7 million) in the next three years, said Tong Wei, CEO of Ganide.
The development of smart communities in China began to accelerate a year ago when the Ministry of Housing and Urban-Rural Development proposed in a guideline that more than 50 percent of communities should be constructed in a smart way by 2020. The guideline defined a smart community as leveraging information technology to integrate resources in the communities to better serve the residents and enable economic and environmental sustainability.
Since then, China's growing urban population has been motivating sections of companies in different industries to eye on the market, putting it on a fast track.
The urbanization rate in China reached 56 percent in 2015, up 2 percent from the previous year, data from the National Bureau of Statistics showed.
To seize the opportunity, Shenzhen-based technology giant Huawei Technologies Co Ltd has been accelerating its research on internet of things to enable the construction of more smart communities, Kong Qingwei, the firm's smart community project manager, said recently.
"Young people welcome the smart community, while the elderly seem to be reluctant about such changes. For example, my parents, both of whom are aged over 60, need much more time to adapt to them," Zhang said.