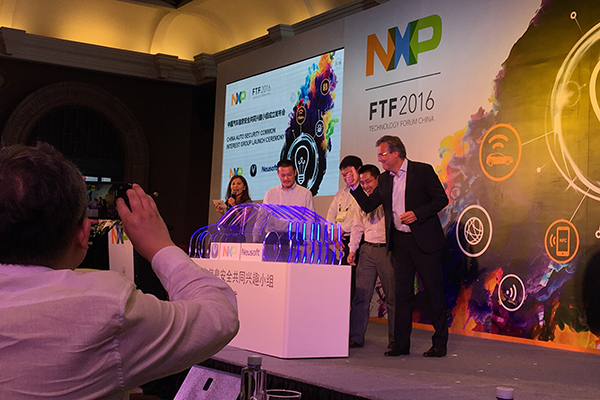 China Auto Security Common Interests Group (CIG) is established on September 27, 2016, at NXPFTF China tech forum held in Shenzhen, Guangdong province. [Photo by Liu Zheng from chinadaily.com.cn]
Cyberattacks pose threat in every network-driven field, including the driverless car sector.
Some of the science fiction-like scenarios, such as hackers able to take over control of the vehicle and steal private information of drivers, have become reality in the past few years.
Chinese web behemoth Tencent's cybersecurity arm Keen Security Lab recently said it had uncovered multiple security vulnerabilities after months of research on the Tesla Model S in both parking and driving mode -- even manipulating the car's braking system.
Industry observers from both China and US have called for greater efforts to safeguard the automotive cybersecurity while the auto original equipment manufacturers had different security standards in place ready.
World's largest automobile semiconductor provider NXP announced on Tuesday it is collaborating with Changan Automobile and Neusoft to establish the China Auto Security Common Interests Group (CIG).
The group brings together a hardware-based industry cooperative organization for automotive security with domestic automotive and software partners in the global market.
CIG will adopt "NXP's 4+1 security framework", consisting of four security layers that lead to a highly secure vehicle network, as a core solution.
The CIG will work together to develop comprehensive industrial solutions and will collaborate to establish industry standards for automotive cybersecurity in China.
Zheng Li, NXP's senior vice-president and Greater China president, said that automotive cybersecurity was recognized by the three companies as a new business scenario that reserves investment potentials. "The collaboration sets a milestone in developing the semiconductor automotive industry.
Kurt Sievers, Executive Vice-President and General Manager Automotive at NXP, said that, as one of the global leaders in both automotive electronics and security, "it's ideal partner to build together with Neusoft and Changan to drive and accelerate the standard for security for the connected cars in China."
"The absence of the standard of has brought challenges to Chinese auto manufacturers and owners themselves," said He Wen, vice-director of Changan Auto Research Institute of Intelligent Technology Development Center. He believes that the triangle partnership will work out an independent and controllable system to meet the request of the industry.