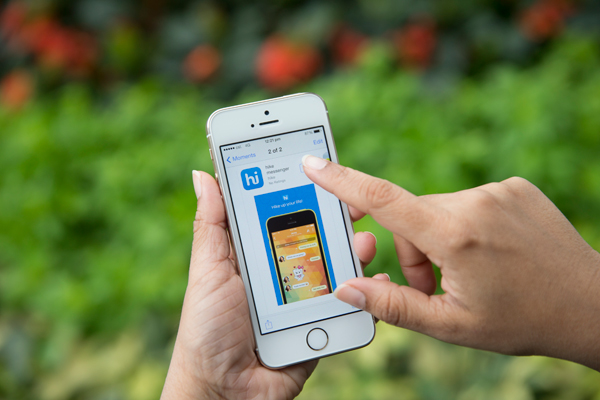 The Hike Messenger app on a mobile phone. PROVIDED TO CHINA DAILY
App is highly localized, similar to China's WeChat
Hike Messenger became India's newest internet unicorn after securing a round of funding at a valuation of almost $1.4 billion from investors including Tencent Holdings Ltd and Foxconn Technology Group.
The app, which seeks to compete with Facebook Inc's WhatsApp, raised more than $175 million via a series D round in which existing backers Tiger Global, SoftBank Group Corp and Bharti Enterprises also participated, founder and Chief Executive Officer Kavin Bharti Mittal said.
Hike's round was one of the largest to emerge in recent months, as investors grow wary of outsized valuations and begin to focus on profitability over topline growth.
The company, which has now raised more than $250 million overall, will lean on Tencent's experience serving up content and games to more than half a billion WeChat users, Mittal said.
Hike integrates news, shopping coupons and gaming and its users send 40 billion messages on the platform each month, Mittal said.
The money raised will bankroll bets on artificial intelligence, machine learning, augmented reality and virtual reality, he said without outlining specific plans.
The app gained popularity through a heavy emphasis on localization. It also comes with privacy features that competitors later sought to copy. For instance, users can hide last-viewed times and status updates, or chat in "hidden mode."
Mittal said 90 percent of its 100 million-plus users are between 15 and 24 years of age and reside mainly outside India's biggest cities.
"Ours is a messaging app born for India's young internet generation, whose need for privacy is even more because in many families, a single device is shared between members," said the 28-year-old executive, whose billionaire father Sunil Bharti Mittal is chairman of Bharti Airtel Ltd, India's biggest telecommunications operator.
The app is available in seven languages and provides stickers in 40 languages. "India is a sight and sound market," Mittal said.
"It is a country with dozens of languages where keyboard standardization is not possible, so audio and video rule."
An alliance with China's largest social media service will prove crucial in the longer term.
Hike wants to carve out its own niche in India, much as Tencent's WeChat has done with China, Line in Japan and KakaoTalk in South Korea, Mittal said.
India is already the second-largest as well as the fastest-growing market for messaging services, according to New York-based research consultancy eMarketer.
"India's internet market resembles China's more rather than any Western markets," Mittal said.