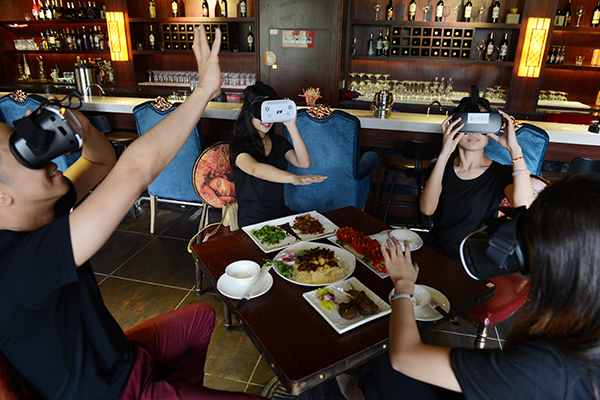 Customers experience VR glasses at a restaurant in Changsha, Hunan province. [Photo/China Daily]
Move will help media giant get cutting edge in the lucrative content production sector
Shanghai Media Group, one of China's largest media groups, announced a strategic investment in Silicon Valley-based virtual-reality company Jaunt Inc-to expand its business into the virtual-reality market.
SMG and its subsidiary Shanghai Oriental Pearl Media Co Ltd will become investors in Jaunt, and SMG, Jaunt and China Media Capital's technology arm Whaley Technology Co Ltd will establish a joint venture known as Jaunt China.
"Jaunt China will replicate the business models of Jaunt to bring cinematic VR experiences to the China market," SMG said. "International VR specialists will be teamed up to produce and distribute premium content for advertising, films and exhibitions taking advantage of the shareholders' extensive IP resources," SMG said in a statement.
Around 200 million yuan ($32 million) from SMG's 1-billion-yuan SMG Cultural Innovation and Entrepreneurship Fund will be allocated to VR content production, said SMG, with a goal to develop 500 VR productions within two years, covering TV programs, entertainment shows, games and music.
"VR content production and IP development are what SMG has built its reputation on. We are more than happy to do our bit to promote VR development together. In the VR world, content is the experience, and experience is the content itself, " said Wang Jianjun, director-general and president of SMG.
China's VR market was worth 1.54 billion yuan in 2015, and is expected to rise to more than 5 billion yuan in 2016, according to a recent report by the China Electronics Standardization Institute.
Market players said in China's fast-expanding VR sector, content production offers great potential for future competition and growth.
While VR equipment provides solutions for "how to experience", content generators and producers are offering solutions on "what to experience", said Zhang Chongguang, a producer with the Shanghai-based Peiyu VR Design and Creation Studio.
"In the past two years, the VR market has mainly focused on hardware development. Now content developers are taking a growing share of the market because consumers realize that using brilliant hardware to experience boring content is not exciting. More clients are asking us to create VR content for branding and marketing," said Zhang.
Once considered just a gaming tool, VR applications now cover a wide range of sectors, such as shopping, real estate and consumer goods promotions, said analysts.
For example, in China, wholesaler Metro Group has launched VR videos to enable consumers to experience their new shopping malls, and some pop singers have been introducing VR music videos.
China's VR market requires more expertise from VR content producers, said Simon Lance, managing director of Hays in China-a talent and expertise consultancy service provider.
Demand for talent is strong in hardware disciplines, but is particularly fierce with the software development and application streams, said Lance.