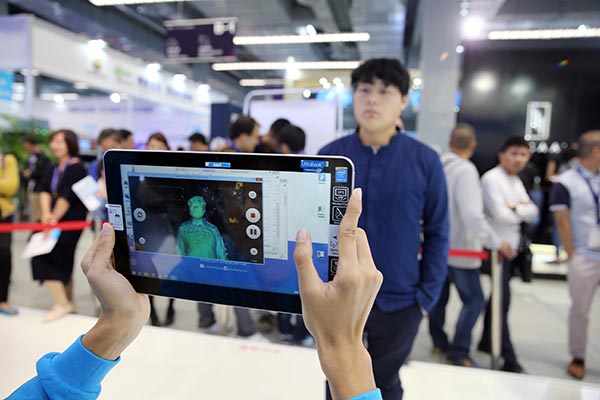 Intel Corp promotes its 3D camera technology at an industry expo in Hangzhou, Zhejiang province. WEI ZHIYANG / FOR CHINA DAILY
Intel Corp is aggressively promoting its 3-D camera technology in China as the company is stepping up efforts to catch up with Qualcomm Inc in the mobile chip sector and preparing for opportunities brought up by the internet of things.
Ian Yang, president of Intel China, said on Wednesday the company is teaming up with a string of Chinese companies to apply the RealSense technology to various products, ranging from computers, tablets and robots to drones.
"RealSense 3-D camera can give machines 'human eyes', which can see the distance between objects and separate objects from the background layers behind them, thus producing better object, facial and gesture recognition than a traditional camera," Yang said.
One of the major partners is Ninebot Inc, a Tianjin-based short-distance personal electric-vehicle maker, which acquired industry leader Segway Inc last year.
Segway has equipped its latest butler robot with a RealSense 3-D camera, which can track full 3-D motion, recognize surfaces of things nearby, map and detect an environment in real time.
Beijing-based Lenovo Group Ltd, the world's largest PC maker, and Yuneec International Co Ltd, a Shanghai-based drone maker, which raised $60 million from Intel last year, are also applying the technology to their products.
Analysts said Intel's enthusiasm in 3-D vision marks a significant shift in the company's sales strategy as the giant of PC chips is losing ground to Qualcomm in the mobile chip sector.
"Instead of selling chips alone, Intel is now selling chips as part of its solution packages, which can encourage developers to use its chips in non-PC devices," said Hao Ying, an industry expert.
The RealSense technology, for instance, can only work on drones when backed with Intel's self-developed chips, which have far faster data processing capability than rival products, he added.
Last year, the multinational said it would invest $5.5 billion to convert a chip plant in Dalian, Liaoning province, for the production of 3-D NAND chips, a type of advanced memory chip, which can store data without using up power.