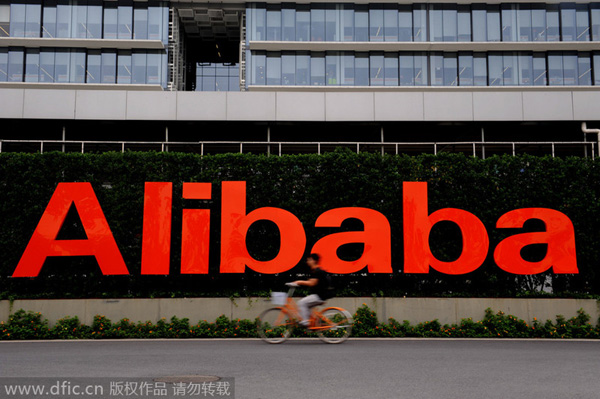 A cyclist rides past a signboard of Alibaba Group in Hangzhou city, East China's Zhejiang province, June 25, 2014. [Photo/IC]

Online shopping major has large and growing consumer base outside China
Alibaba Group Holding Ltd has taken a controlling stake in Southeast Asian online shopping major Lazada Group SA for roughly $1 billion.
The acquisition will beef up the Chinese internet giant's presence in one of the world's most-populated areas where e-commerce is booming.
Alibaba will spend about $500 million to buy newly issued equity in Lazada and the rest will be spent on acquiring shares from existing holders such as British retailer Tesco Plc.
"(The acquisition) is expected to help brands and distributors around the world that already do business on Alibaba's platform, as well as local merchants, to access the Southeast Asian consumer market," said a joint statement released by Alibaba and Lazada.
Michael Evans, president of New York-listed Alibaba, said the buyout is in line with the company's globalization strategy.
"With the investment in Lazada, Alibaba gains access to a platform with a large and growing consumer base outside China," according to Evans.
Max Bittner, CEO of Lazada, said the transaction will help the Singapore-based company to build its consumer base and "rapidly improve" services by leveraging the Chinese company's technologies.
Lazada operates retail sites in Indonesia, Malaysia, the Philippines, Singapore, Thailand and Vietnam. The six countries have a combined population of about 560 million, nearly twice that of the United States. Approximately 200 million in the region use the internet, according to Internet Live Stats.
Cao Lei, director at Hangzhou-based China E-Commerce Research Center, said overseas expansion is becoming a key strategy for Alibaba and Southeast Asia could be the company's next focus.
"The region is close to China, so Alibaba will be able to use its logistics capability in those countries. The high density of population will also help the e-commerce business quickly expand," said Cao.
With only 3 percent of the region's total retail sales conducted online, Southeast Asia is expected to offer tremendous growth potential, said Alibaba.
The cash-rich company is the biggest spender on overseas acquisitions compared with other Chinese e-commerce players.
From a Hong Kong-based newspaper to the broadcasting right for rugby games, company founder and Chairman Jack Ma is investing in a wide spectrum of sectors amid discussions China's demand in online shopping is hitting a ceiling.
In the e-commerce segment, Alibaba took in shares of the US group-buying platform Groupon Inc and a number of small-time shopping sites.
"The results for Alibaba's US investments are mixed due to complicated reasons from the investment targets. It rarely makes e-commerce-related investment in the Southeast Asian region, which the company may put a little more attention on," according to Cao.
Ma's most prominent investment in the region was a year ago when Alibaba paid $249 million for a minority stake in Singapore Post Ltd, the city-state's key postal service.
More than 80 percent of Alibaba revenues by the end of last year were generated from the Chinese retail marketplace, according to the company's latest financial results.
Alibaba is trying to unlock demands from the mobile and rural sectors to grow its business, on top of its overseas expansion.
Meng Jing contributed to this story.